Avery File & Folder Labels
Save precious time and eliminate the hassle of searching for lost documents with the use of custom file and folder labels. When each of your files and folders are accurately labelled, it not only streamlines your filing system but also ensures easy access to all your important documents.
These file folder labels come with a permanent adhesive, designed to firmly stick once applied, helping your labels remain in place and visible for a long time.
Try our Design and Print software to create your unique label design. With custom file and folder labels, you and your coworkers will easily identify and locate files and folders from anywhere in the office.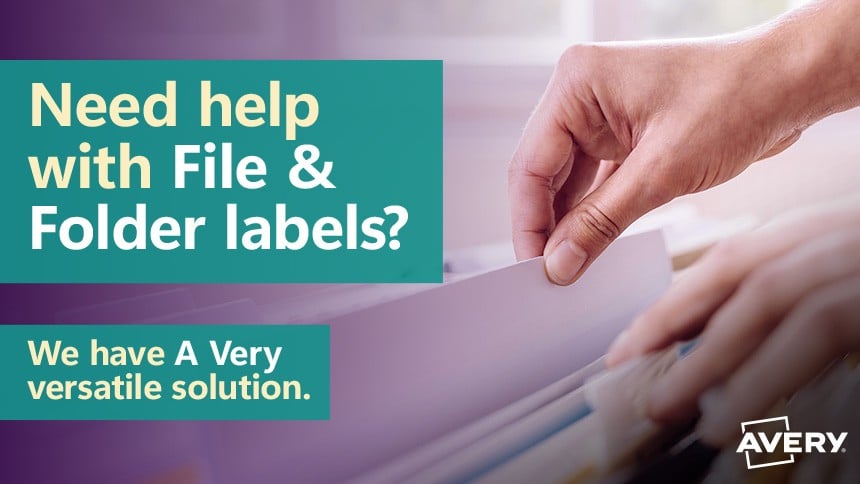 Customise Your Own File and Folder Labels
Keeping the office organised and efficient is important. Time is money, and easily identifiable folders will help save time. Our file folder labels come in a range of colours, sizes and styles to meet your organisational needs.
Choose your options with our blank labels by the sheet, where you can print custom file and folder labels right from home. For example, choose our Kraft brown labels for a natural look or our range of fluro options to make your folders stand out in a busy office.
Our Avery packs are the perfect choice for those looking to buy in bulk and have pre-made options available to make your labelling easier. And with our TrueBlock® Technology, the unique black backing covers everything underneath, making your label will look its best
File and Folder Labels FAQs
How do I create labels for folders?
With Avery's free Design & Print online software, it's easy to make your own custom print labels. All you need is a computer, printer and an internet connection. Enter the software code of your labels, then choose from hundreds of free templates or upload your own artwork. When you're finished, print them out on Avery blank labels using your printer at home or office!
How do i create labels for my lateral files
With Avery's free File Pro software, it's easy to make your own print labels. All you need is a computer, printer and an internet connection.
What is the best way to label files?
The best way to label files depends on what makes sense for you or your office. Some folks prefer alphabetical systems, while others like categorising by date or project. The key is to be consistent so it's easy for anyone to find what they're looking for.
Why do we need to label files?
Labelling files is about saving time and avoiding headaches. When you've got clear labels, you're not rummaging around for ages trying to find that one important document. Plus, if you're sharing files with others, good labels are a courtesy that makes everyone's life easier.
How do I organize and label files?
First, sort your files into logical categories, then decide on a labelling system. Labelling is about making life simpler, not more complicated.