Write-on Labels
Welcome to a world where organisation meets creativity. Our range of write-on labels is designed to bring flair and function to your everyday. Whether you're looking to spruce up your home office, label your children's school supplies, or differentiate products in your small business, Avery's write-on labels provide a versatile solution. 
Each label is a canvas awaiting your personal touch. Explore our variety, find your favourite, and make a statement that sticks. Your journey towards better organisation and clear identification begins with Avery's write-on labels. Get ready to write, stick, and astonish!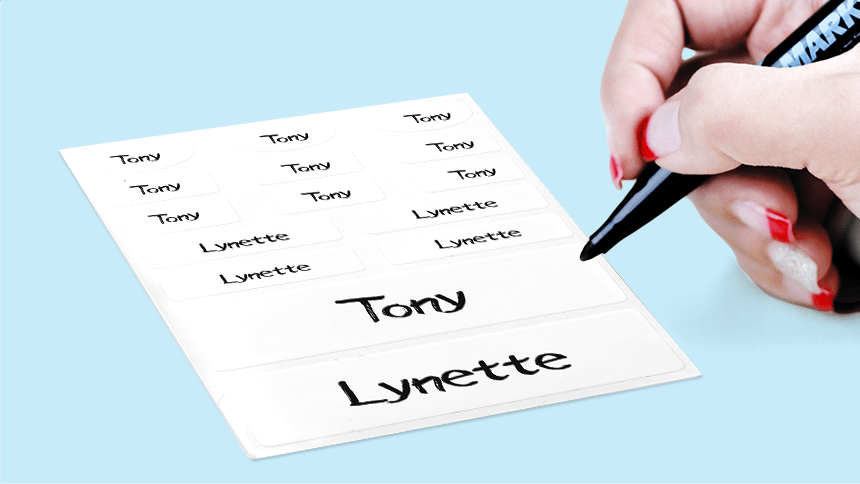 Learn More About Our Hand-Writable Labels
Our write-on labels are not just about sticking to surfaces; they're about adhering to a lifestyle of clarity and creativity. They are your go-to companion for many uses at home, in the office, or at your retail outlet.
The writable surface of our labels is smooth, making it a breeze to jot down information. Whether it's marking your storage containers, pricing items in your shop, or adding a personal touch to gifts, the crisp, clear surface is ready for your pen or marker. 
The simplicity of a handwritten label combines with the quality Avery guarantees, offering a reliable solution to all your labelling needs. It's about making ordinary tasks more special and bringing an old-school charm to your modern-day necessities. 
Avery's hand-writable labels are not just about sticking; they're about making a statement that's uniquely yours
Write-On Labels FAQs
What Do You Use To Write on Labels?
For everyday paper labels, a good old ballpoint pen does the trick. If you've got something that needs to be more permanent or you're using a label made of plastic or metal, a permanent marker or specialty marker will work better. What you use depends on the label material and the conditions it'll be exposed to. Always do a small test first to make sure it looks how you want it to.
Can You Write on Waterproof Labels?
Yes, you definitely can. But, to keep your writing intact, use a waterproof pen or permanent marker. This creates a durable finish that won't run if it gets wet. Let the ink dry for a few hours before exposing it to water.
Can You Write on Avery Labels?
Avery labels are super versatile, designed for printing but also handwriting-friendly. Standard pens and permanent markers work well on them. To be on the safe side, maybe do a quick test to make sure the ink sits well and doesn't smudge or feather.
Can You Write on a Printed Label?
Absolutely. If you need to add more info after you've already printed on a label, you can. Just ensure the printed ink has had enough time to dry so you don't end up smudging when you add your handwritten notes.
How Do I Add Text to My Avery Label?
Avery makes it easy for you to customise your labels. We offer free downloadable templates on our website that you can open with a word processor or edit the labels directly on our site. Just type your text right into the template and print.
What Can I Use To Write on Black Labels?
For black labels, you'll want something that stands out. Metallic or white ink markers are usually the way to go. These markers stand out vividly against the dark background, giving your labels a unique and eye-catching look.
Does Sharpie Work on Stickers?
Sharpies are a solid choice for writing on stickers. There are various types available, but permanent Sharpies are often the go-to. They dry quickly and won't easily smudge or run.  It's always a good idea to briefly let it dry so your writing stays put.
Got More Questions? We've Got Answers
If you need any assistance or have questions about write-on labels, feel free to reach out to our dedicated customer service team.
If you're in Australia, call 1800 644 353 or contact us at 0800 228 379 if you live in New Zealand. Alternatively, please check out our FAQ page. Shop Avery's write-on label online today!