Avery Removable Labels
If you're not looking for that long-term commitment, these Avery removable labels are just what you need. They stick securely but remove with ease, not leaving residue behind. 
Perfect if you want to label items for sale but need the label to come off. Check out the range to see all the different sizes our removable labels have to offer. 
Try our Design and Print software to create your own professional-looking labels from home. Create your unique design or choose from one of the many on offer in the Avery gallery.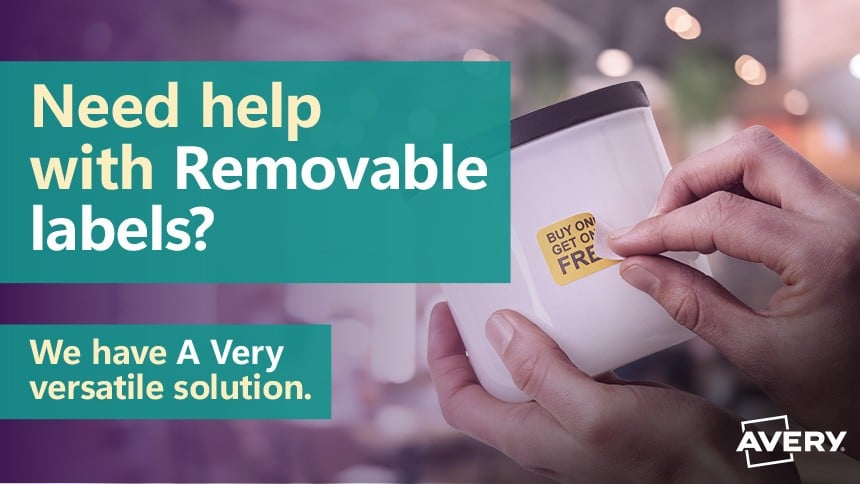 Removable Labels That Meet Your Needs
If you're after a flexible and cost-effective labelling solution, then our removable labels are just for you. They come in almost every size you can think of, are easily customisable, and are perfect for everything from organising your home or office to hosting a sale event. 
The biggest selling point is the balance between their adhesive strength and removability. Avery removable labels are strong enough to stay put. Still, they can be removed without leaving a trace of sticky residue or ripping the material they're attached to. 
They stick to most surfaces, including paper, plastic and metal, to name a few, making them ideal for a variety of situations.
Looking for removable piano keyboard note labels? Easily stick and remove labels from your piano keys with our range of removable labels, making learning and practising music easy. 
At home, our removable freezer labels are also a great option for labelling food items in your freezer. Our easy-peel removable labels make it quick and easy to get the job done. Plus, the labels are designed to last in cold temperatures, so you don't have to worry about them coming off.
Looking to label some marked-down items? Avery removable labels are perfect for the job. Not only are they easy to apply and remove, but they can also be written on with a pen or marker, so you can add the discount prices
Removable Labels FAQs
What are removable labels?
Removable labels have an adhesive that allows for easy removal without leaving any sticky residue or causing damage to the surface they are stuck to.
Are Avery stickers removable?
Avery provides removable sticker options. When shopping, read the product description or look for terms like "removable". Removable Avery stickers are made to offer the convenience of clean removal without leaving a residue.
Are vinyl labels removable?
Vinyl labels come in different forms—some are permanent, while others are removable. The key factor here is the type of adhesive used. Removable vinyl labels are typically made for short-term applications like window decals, promotional signage, or temporary decorations. They're easy to apply and remove, making them a popular choice.
How do I remove a print label?
Soaking the label in warm soapy water will make removing more easily, It there is any sticky residue left behind, you can also use adhesive remover or eucalyptus or tea tree oil
What labels can't be removed?
Certain labels, such as those for security or tamper-evident purposes, are intentionally difficult to remove. When peeled, these labels may leave a residue or another clear sign indicating that the item has been tampered with. Such labels are common on electronics, pharmaceuticals, and sensitive documents.
Are removable stickers reusable?
Most removable stickers are not designed to be reused after removal. This is because the adhesive usually loses its effectiveness after the first application.
Are removable stickers waterproof?
Only the Heavy Duty Removable labels