Avery WePrint - Custom Label & Sticker Printing
Premium Quality. Fast Shipping. Satisfaction Guaranteed.
Are you struggling to make your brand stand out? Do you want to add a unique touch to your products? Avery WePrint is your solution, bringing custom stickers and labels that speak volumes. 
Through easy-to-do printing and a palette of endless creativity, you can transform your vision into a brand identity that's as unique as you are.
At Avery, we know every business has its own story waiting to be told. That's why we offer a huge range of customisable options for your labels and stickers. From various shapes and sizes to different materials, fonts, colours, and designs- it's all in your hands. 
Your pathway to effortless branding, remarkable quality, and a splash of creativity begins here.

With Avery, you don't just get custom stickers and labels; you gain a dedicated ally in showcasing your brand's identity. Here's why Avery WePrint is the choice for you:
Fast online design and ordering: Get your design from concept to print in just a few clicks. Our online platform is streamlined for quick, intuitive design and ordering.
Extensive selection: Dive into a broad spectrum of sizes, shapes, and materials to find the perfect match for your branding needs.
Gentle on your products: Our acid-free labels ensure zero damage to your products, preserving their pristine condition.
State-of-the-art printing technology: Harness the power of the latest digital printing technology to produce labels and stickers that pop and resonate with your audience.
Unyielding adhesive technology: With an industry-leading adhesive, our labels stick and stay stuck, ensuring a lasting impression.
A proven legacy: Over 80 years in the label business, we didn't just participate; we innovated, leading the adhesive labels and stickers evolution.
Swift shipping: We offer fast shipping across Australia and New Zealand, ensuring your branded labels and stickers land in your hands right on schedule.
Proudly Australian: Our labels and stickers are crafted here in Australia, embodying a legacy of quality and excellence.
Satisfaction guaranteed: Your contentment is our success. If our product falls short of your expectations, we offer a hassle-free money-back guarantee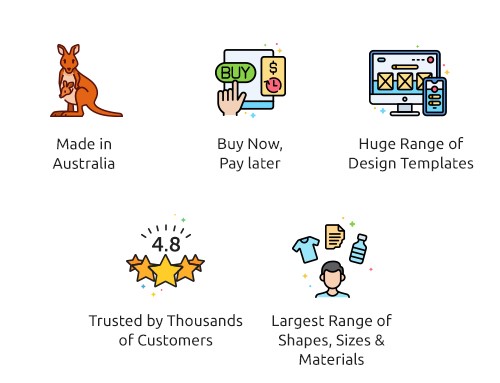 Our Most Popular Products
Here's what our customers think of us!
Choose from our range of shapes
Choose from a wide range of materials
How about card and business card printing?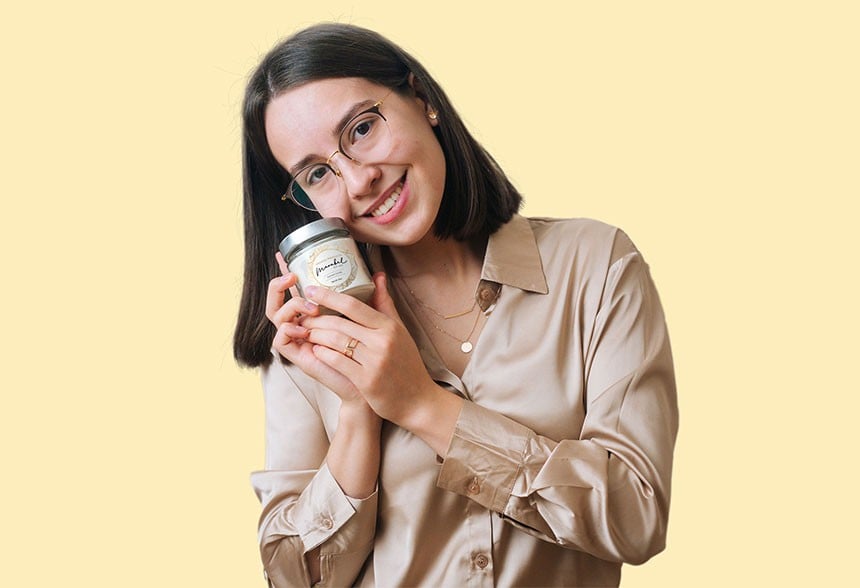 Calculate your price using our instant online calculator (there are no hidden costs) and then jump right into our design tool to start creating - it's really that simple.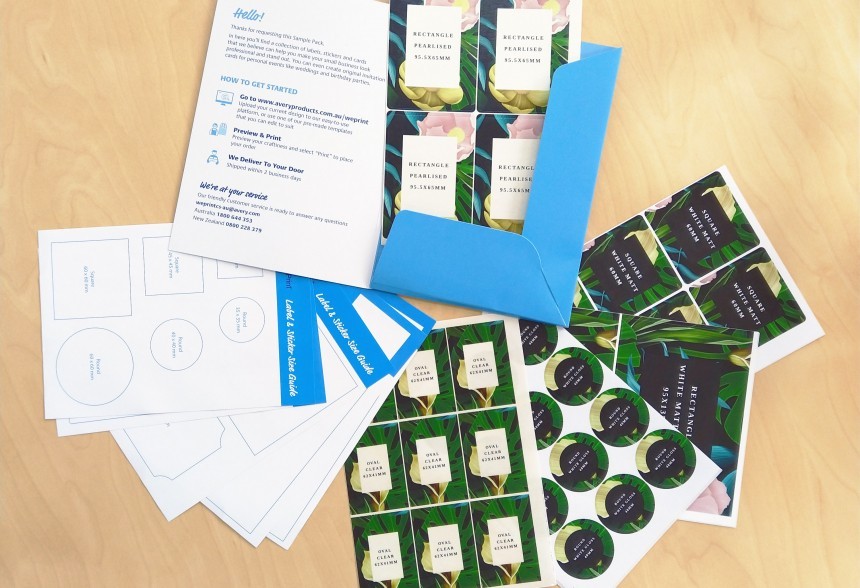 Order A Free Sample Pack
If you're uncertain of what size, shape or material to order, or simply want to be assured of the amazing quality of our labels - our free sample pack is for you! It comes with samples of all our shapes and materials in a variety of sizes, along with a handy chart showcasing every available size.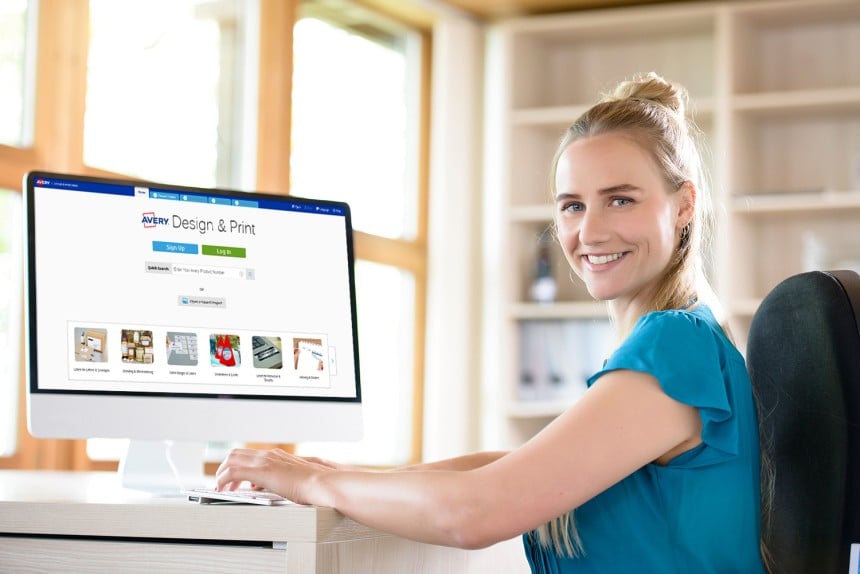 Got More Questions? We've Got Answers
Are you looking for a custom sticker and label printing service that understands your unique needs? Look no further. At Avery WePrint, we offer exceptional quality and unparalleled customer service to help bring your brand's vision to life. 
Do you have more questions?
Visit our FAQ page here. Alternatively, you can contact our Australian line on 1800 644 353 or 0800 228 379 if you live in New Zealand.
WePrint Custom Stickers and Labels FAQs
What Materials Are Used To Make Custom-Label Stickers?
Custom label stickers are made from a variety of materials. Paper is the most common budget-friendly option. If you're after something more durable, consider vinyl or polyester. These can withstand moisture and wear and tear better. 
Some specialty labels might even use metal or fabric. Making the choice depends on the label's intent and what you need it to endure.
How Can I Keep Custom Sticker Labels From Peeling?
Peeling is a pain, right? To keep your labels firmly in place, ensure the surface you're sticking them to is clean and dry.  
If you've got a choice, go for labels with a strong adhesive backing. Some custom-label stickers also offer UV or weather-resistant coatings for added durability. Check the label specs before buying.
How To Make Custom Stickers for Small Businesses?
Do you have a small business and want to make custom label stickers? Consider outsourcing to a professional printing company like Avery for large quantities and a more polished finish. They can also help with materials you might not have at home, like vinyl or foil finishes.
How Much Do Custom Labels Cost?
The cost of custom labels can vary a lot. It depends on material, quantity, size, and special features like gloss or UV coating. It can range from a few cents per label for basic paper labels in bulk to a couple of dollars for high-end, low-quantity custom label stickers.