Labels by Printer Type
Find the right label for your printer.
Discover the right fit for any printing job at Avery. Whether you're working with Laser, Inkjet or interested in handwritten and pre-printed options, we've got the specialised label you're looking for. 
Our Laser labels are made to withstand high heat, guaranteeing crisp, precise results. Our Inkjet labels feature Quick Dry material to banish smudges. 
Plus, we offer a premium selection of handwritten and pre-printed labels for even more unique projects. 
Before you browse, remember to pick the label that works with your printer type to guarantee quality results and protect your machine.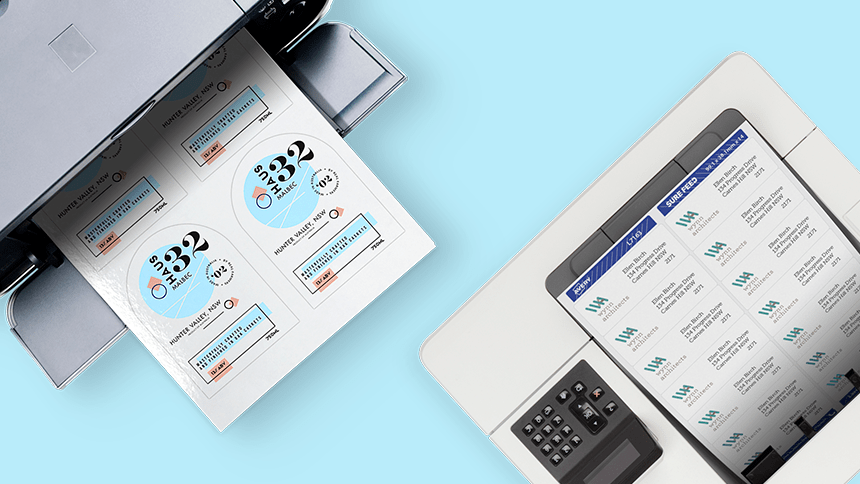 Learn About Ordering Labels by Printer Type
When it comes to finding the right label, knowing your printer type is half the battle. Here at Avery, we've segmented our labels into distinct categories to make your shopping experience as easy as possible.
First up are our Laser labels. These aren't your everyday labels; they're specifically designed to withstand the high heat laser printers generate. This helps each print come out sharp and stay that way, whether printing one label or a hundred. If your work relies heavily on laser printing, these are the labels you'll want to stock up on.
Next, we have our Inkjet labels made with our Quick Dry material. Nobody likes to see a smudged label, and with these, you won't have to. Ideal for vibrant colour printing, they dry almost instantly to deliver a smudge-free result every time. These labels are your go-to choice if your printer uses liquid ink cartridges.
Lastly, our handwritten and pre-printed labels offer a more traditional approach. These are perfect if you want a personalised touch or need to add information on the go. They come in different sizes and materials, offering flexibility ideal for events, small businesses, or personal use.
Ordering Labels by Printer Type FAQs
Is Inkjet or Laser Better for Labels?
Both inkjet and laser printers have their pros and cons for label printing. Inkjet printers offer vibrant colours, making them great for detailed and colourful designs. 
On the other hand, laser printers are great at sharp text and generally faster. For long-term, high-volume printing needs, laser might be more cost-effective. Ultimately, your choice depends on what you need from your labels
Is It Okay To Use Laser Labels in an Inkjet Printer?
Generally, it's not a good idea. Laser labels are designed to withstand the high heat of laser printers. Using them in an inkjet printer can result in poor print quality or even jam your printer. Stick to labels designed for your printer type for the best results.
Which Type of Printer Is Used for Labels?
Printer types come in different forms, but inkjet and laser printers are the most commonly used for standard label printing. Specialised label printers are also available for industrial or commercial use. 
Your choice depends on your specific needs- volume, quality, and budget all play a part
What Is the Best Printer To Print Labels and Stickers?
There's no one-size-fits-all answer. A good-quality inkjet printer will be your best bet for high-quality, colourful labels. For ultra-crisp text and high-volume printing, a laser printer is a great option. 
Research models and printer types that fit your needs and read customer reviews to make sure you get the best printer for what you need
What Is the Best Printing Method for Labels?
Digital printing is a great choice for labels with detailed graphics. Flexographic printing is best for large volumes and simpler designs. The "best" method depends on your project's scope, budget, and design requirements
What Is the Cheapest Way To Print Your Labels?
If you're doing small batches at home, using your own inkjet or laser printer with blank label sheets will be cost-effective and easy to do.
Got More Questions? We've Got Answers
Choosing the right label shouldn't be a headache!
If you have any questions about our labels by printer type, please don't hesitate to email us at [email protected]. 
Or contact our Australian line on 1800 644 353 or 0800 228 379 if you live in New Zealand, and one of our friendly team members will be in touch shortly.