Custom Printed Labels and Stickers – WePrint
Choose your size, shape, material, and quantity - then personalise your label by uploading your own design, creating one using our design tool, or using one of our many templates.
Printed using the latest digital printing technology
Industry leading adhesive technology - when our labels stick, they stay stuck
Superior durability
Proudly made in Australia
Custom Printed Labels and Stickers – WePrint
Choose your size, shape, material, and quantity - then personalise your label by uploading your own design, creating one using our design tool, or using one of our many templates.
Printed using the latest digital printing technology
Industry leading adhesive technology - when our labels stick, they stay stuck
Superior durability
Proudly made in Australia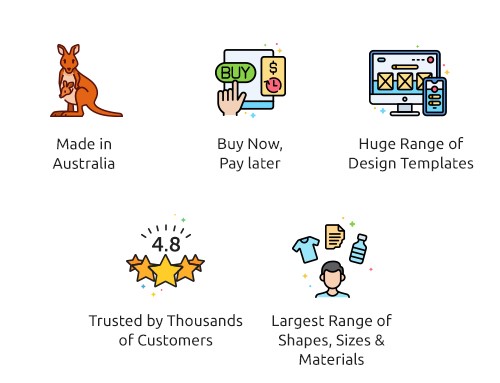 You create, we print & deliver!
Do you need custom-printed labels and stickers? WePrint is the hassle-free way to get quality labels and stickers designed and delivered to your door.
Our super easy online label maker lets you conveniently choose sizes, materials, shapes and quantities to suit any project. Whether you need a few stickers or thousands of product labels, we've got what you need!
Easily upload your artwork or use our professionally designed templates to create stunning designs in no time. Forget the headaches of designing and printing labels yourself. WePrint handles it all for you.
Ordering is simple- just choose, design and order. Your custom-printed labels and stickers will arrive on your doorstep in no time. Don't wait; get high-quality custom-printed labels and stickers delivered fast by Avery WePrint!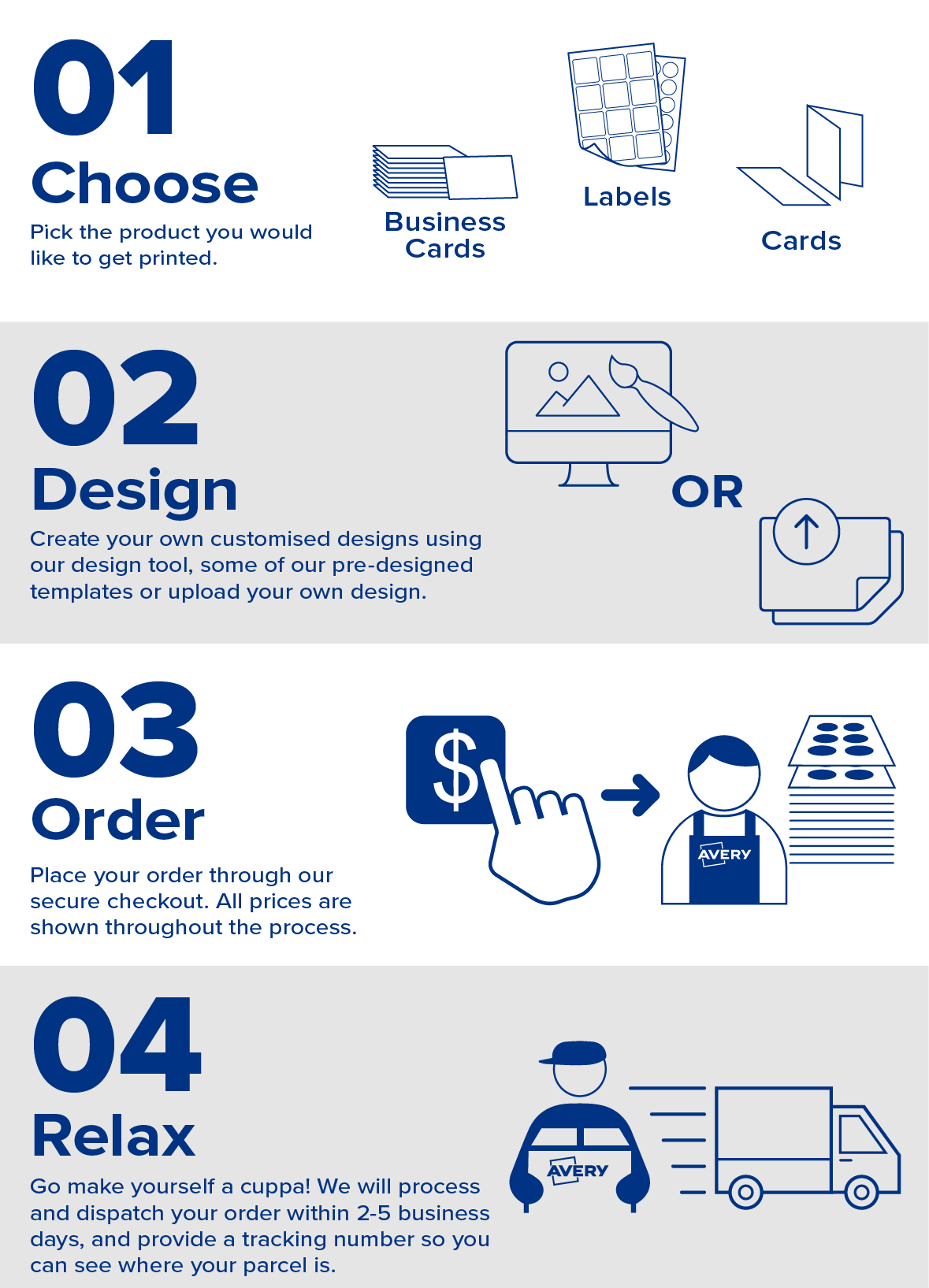 Here's what our customers think of us!
Some of our Avery WePrint customer creations

A winner every month!
Want to score a $100 Avery WePrint coupon? Share a photo showcasing your Avery WePrint label on your products via Instagram. Use the hashtags #AveryWePrintAU and #Creations (you're welcome to add other hashtags too). For complete T&C's click here.
You've got a great small business, side hustle, or creative project going on. Now it's time to make it official with some professional-looking labels and stickers! 
This easy online service lets you design custom stickers and labels from your computer.
Choose from a huge range of materials, sizes, shapes and finishes to get exactly what you need to make your business stand out!
Sticker Label Printing Quality
When it comes to the labels and stickers you put on your products, quality matters. 
You want designs that pop but also stickers and labels that live up to your high standards. 
With Avery WePrint, we promise you'll get exceptional print quality and industrial-strength adhesion!
Our labels and stickers are printed here in Australia using the most up-to-date digital printing technology. 
This means your designs will look incredibly sharp and vivid, with accuracy down to the most minute details. 
Of course, stunning graphics mean nothing if the labels don't stick properly. 
But with over 80 years of expertise developing adhesive technology, we have this covered too. 
Thanks to industry-leading adhesives, our stickers and labels stay put yet still peel off cleanly when needed. 
Once applied, you can trust them to stay stuck through handling, shipping and sale.
With fast turnarounds, competitive pricing and a satisfaction guarantee, Avery WePrint takes the guesswork out of finding top-quality custom stickers and labels for your business. 
You can use us for all your label and sticker needs
Why Are Labels and Stickers Useful?
For small and medium businesses, custom stickers and labels are invaluable for branding, organisation, and promotion. 
Professionally printed labels bring legitimacy to your products and help customers identify your brand. Use eye-catching stickers to seal packaging, provide instructions, and showcase your brand logo!
Personalised labels and stickers also keep your workplace organised and processes running smoothly.
Custom sticker labels clearly identify shelves, bins, files, and assets.
Durable barcode and QR code stickers help track inventory and assets.
Fun stickers boost morale and give customers a smile.
When effectively designed, custom stickers and labels become mini advertisements for your business. 
Place stickers on packages, products and mailings to turn regular shipments into moving billboards. 
Use colourful, branded stickers as promotional giveaways at events and tradeshows.
So don't underestimate the power of these small but mighty items. 
Custom stickers and labels punch above their weight when it comes to brand awareness. 
For an affordable investment, they provide countless uses that help take your business to the next level!
The Use Cases of Personalised Labels
Personalised sticker labels can be used for many applications, from product labelling to asset tracking and beyond. 
Here are just some of the ways you can use custom stickers and labels to help your business thrive.
Branding Products
Custom sticker labels allow you to clearly identify your products with your business name, logo, designs, etc.
Organising Inventory
Use personalised labels to organise shelves, bins, and storage areas by sticking labels that identify contents.
Custom Signage
Print labels with your branding to create custom signs, name badges, door/wall signs and more
Shipping & Packaging
Design mailing and packaging labels to promote your business when shipping orders and products.
Event Promotions
Print fun, creative stickers to give away at trade shows, conferences, and other events.
Asset Tracking
Use barcode and QR code labels to easily track equipment, tools, electronics and other assets
Gifting & Crafting
Make customised gifts like water bottles, notebooks, and swag bags with printed labels containing photos and designs.
WePrint Custom-Printed Labels and Stickers FAQs
How Much Is a Printed Label?
The cost of a printed label can vary a lot. It depends on the material, size, quantity, and fancy extras like UV coatings. A simple paper label could cost just a few cents, especially if you're buying in bulk. 
If you're going all out with vinyl, metallic finishes, or low quantities, you could be looking at a lot more per label. It is always good to get quotes from different suppliers.
How To Make Custom Sticker Prints?
Making personalised sticker labels is easy with Avery WePrint's user-friendly online editor. Just go to our website and select your label shape, material, size, and quantity.
Upload your own designs, photos, logos and text or choose from our template library. 
Use the layout tools to add images and designs and align your elements how you like. 
See a live preview to perfect your label before buying.
With an easy online ordering process, quick shipping, and top-quality printing, 
Avery WePrint makes designing and ordering your unique custom labels foolproof.
Get started creating your personalised labels today!
How Can You Convert an Image Into a Sticker?
Converting an image into a sticker is easier than you might think. Open the image in graphic software , then tweak it until it's perfect. Save it in a format your printer likes, usually PNG or PDF, then, print it!
Can You Get Photos Printed As Stickers?
Absolutely, you can get photos printed as stickers. Just make sure the photo's resolution is high so it doesn't come out blurry. It's a fun way to personalise stuff, so get creative! 
Can I Write on My Custom-Printed Stickers?
Yes, Avery WePrint's custom stickers can be written on with most pen types. Our white gloss and matte stickers offer the ideal surface for adding additional details by hand.
Some tips for writing on stickers:
Use oil-based ballpoint, rollerball or gel pens. Avoid Sharpies or permanent markers as they may bleed through the material.
Let printed stickers fully dry for 24 hours after printing before writing to allow inks to set.
Write lightly, and don't over-saturate the area to prevent bleeding under the sticker.
Test one sticker first before writing on the entire batch if uncertain about the pen type.
What Material Is Used for Making Custom Labels?
Avery WePrint offers a wide variety of high-quality materials to choose from when creating custom labels to get the perfect fit for your needs.
Some of our most popular label materials include:
Got More Questions? We've Got Answers
Say goodbye to stress and hassle with Avery's WePrint's custom-printed labels and stickers. If you're looking for one of the easiest ways to get high-quality custom labels and stickers with virtually endless customisation options, you've come to the right place.
Still have questions? Check out our FAQ page or contact our Australian line on 1800 644 353 or 0800 228 379 if you live in New Zealand. Our friendly customer support team is always here and ready to help.
So what are you waiting for? Get started today and see why Avery WePrint is the top choice for custom-printed labels and stickers.