Lid Seal Labels
Avery's printable lid seal labels ensure your product stays fresh, secure and tamper-proof while looking amazing. Suitable for plastic and glass jars and bottles, these labels are perfect for selling jam, honey, spreads, or chutneys. 
Our lid seal labels will give your products a professional touch and extra sparkle to help them stand out!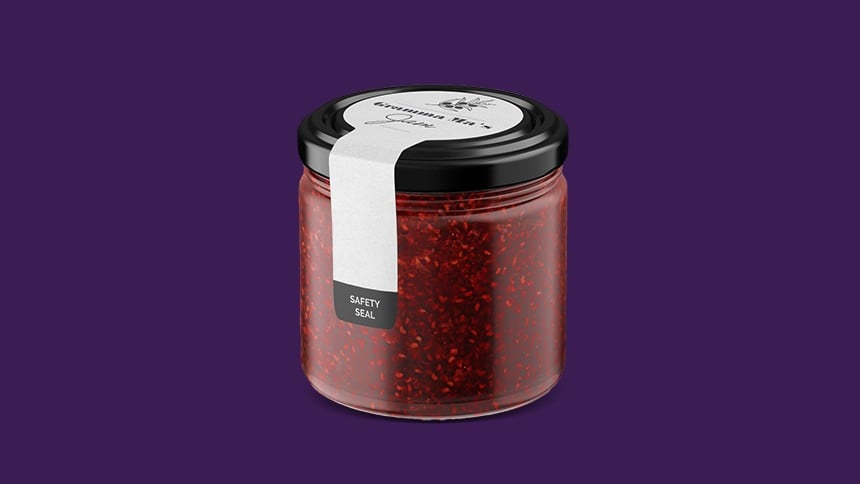 What Lid-Seal Labels Does Avery Offer?
The small details make a big difference when you're running a business. Take lid seal labels, for example. These aren't just any old label stickers!
A good lid seal label must 
Withstand conditions like temperature changes and moisture.

Strongly adhere to various materials.

Present clear and legible printing.

Convey a design that complements the product and brand aesthetic.
Lid seal labels are the secret weapon to help your products look appealing, showing your customers they're getting something fresh and untouched.
Do you make homemade jam or chutney? If you do, you may have wondered- what's stopping a curious shopper from opening one of my products up for a quick smell or taste? This is where jar tamper seals come into play.
These label stickers are smartly designed to go over the lid and down the side of the jar. This seal should act as a deterrent for nosy shoppers. But if anyone does try to sneak a peek inside your jar, it'll show! 
For home-crafted pickles and olives, a jar tamper seal ensures product integrity and serves as a platform for branding and providing important product information.
If artisanal honey is your product, you need personalised honey labels. These offer you the chance to tell your story, share your product's origin, and make your honey jar stand out from the crowd. 
Are you looking for lip balm labels with safety seals? These clever wrappers do double duty. They'll give your customers peace of mind knowing their lip balm tubes haven't been messed with and give you 360 degrees of branding space to play with.
Other skin care products like face creams and hair gels also benefit from lid seal labels to prevent tampering.
What materials, colours, and finishes are available for Avery's lid seal labels?
We offer a whole world of materials to choose from!
Choose from matte or white gloss, frosted or clear polyester, and various colours, including fluoro and metallic. 
For a rustic, homey vibe, consider labels made from textured linen paper.
If you're after a touch of luxe, metallic gold or silver labels are perfect. 
White gloss paper lid seal labels provide a clean, modern look for your products.
And what sizes are available?
In the labelling world, sizing can often be an issue. But don't worry! We have labelling solutions for jars and bottles of all shapes and sizes.
For narrow products like lip balm tubes, a 25mm x 105mm lid seal label is your best bet. For bigger jars or containers, choose a 40mm x 100mm or 55mm x 100mm label.
With choices of 6, 8, or 12 lid seal labels on one sheet, we've got you covered, no matter the project siz
Questions About Ordering Lid-Seal Labels?
Browse through our extensive collection of lid seal labels and add your unique twist using our simple-to-use free Avery Design and Print Templates.
To sweeten the deal- we offer free shipping for all orders over $150. So unleash your creativity and get designing and printing today!
Do you still have some questions about our labels?
Check out our FAQ page here for some quick answers. 
If you need more help and you're from Australia, contact us on 1800 644 353. And if you're calling from New Zealand, we're available at 0800 228 379.
We can't wait to help you discover the lid seal label that's just right for you