Heavy Duty Labels
Keeping your workplace safe is essential, especially where potential risks are involved. A simple yet effective approach is to use Avery's heavy-duty labels for clear safety warnings and hazard signs.
These labels, designed for the toughest conditions, can resist harsh weather, rough handling, and corrosive chemicals, keeping your workspace safe. Avery's heavy-duty asset labels and barcode labels are perfect for managing and tracking assets in challenging workplace environments.
The Avery heavy-duty silver labels add a premium touch while offering strong protection, making them ideal for many scenarios.
The best part? Creating and printing these labels is a breeze, thanks to Avery Design and Print, a free, user-friendly template software. This tool lets you create custom labels in minutes, saving time and money.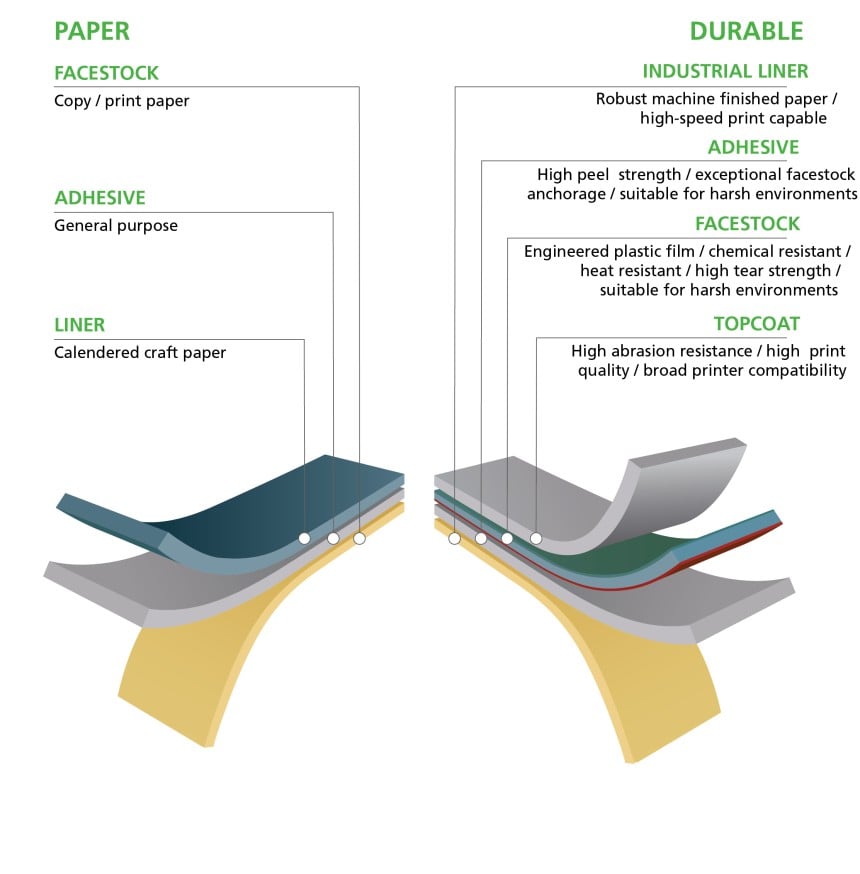 Standard Paper vs Durable Industrial Labels
Avery understands there's a big difference in adhesion strength and material requirements when labelling in industrial environments. But what are industrial labels? How do they differ from standard paper labels?
Standard paper labels are designed for general indoor applications. These labels are not waterproof or tear-proof, so they can easily get damaged in harsher environments. 
Industrial heavy-duty labels offer a stronger solution that can resist extreme temperatures and even chemicals.
The construction of Avery's industrial-grade, heavy-duty labels ensures the labels stick to nearly any surface, such as 
Metal.
Wood (pallets).
Glass.
Plastic and more.
They have an extra layer of plastic film for increased strength and durability. 
This extra layer means you don't need to worry about labels peeling off or becoming illegible due to weather conditions or contact with rough surfaces.
Our labels are engineered to withstand the range of conditions and hazards found in harsh industrial environments such as warehousing and logistics, manufacturing, laboratories and construction sites.
They can be used for
Safety warnings.
Asset tracking.
Hazard signs.
Barcoding and labelling.
High-temperature applications.
Corrosive chemical storage.
Industrial machinery labels.
Outdoor signs and markings.
Cold storage labels.
And more!
Test out our labels for yourself, tear them or scuff them up to see the difference an Avery heavy-duty label makes
How do you label heavy equipment?
When it comes to heavy equipment, you need to use industrial-grade adhesive labels that are resistant to weather, UV light, and abrasion. This is the Heavy Duty labels in our range
What labels stick to plastic?
For plastic surfaces, we recommend our Heavy Duty labels
How do you label inventory in a warehouse?
In a warehouse, organisation is king. We recommend our Utra Resistant Heavy Duty labels
How do you label pallets in a warehouse?
Labels will not stick to wooden pallets due to the rigid surface, Any label with a permanent adhesive like the Gloss or Heavy Duty labels will stick to pallet wrapping
What is the best way to label inventory?
The best way is to use a system that's both durable and easily updateable. Barcodes and QR codes work great for quick scanning. Whatever you choose, consistency is crucial—every item should be labelled in the same way to avoid confusion.
What is a safety label?
A safety label warns you of potential hazards and offers guidance on how to avoid them. These are non-negotiable in an industrial setting, often featuring symbols and colours that conform to specific standards.
How do you write a safety label?
You can hand write on labels using a permanent marker
What is the Australian standard for safety labels?
In Australia, the AS 1319-2004 standard outlines requirements for safety labels and signs. This covers everything from design and colour to the use of symbols and wording. Stick to this standard to ensure you're compliant with Australian safety rules.
What is the importance of a safety label?
Safety labels are like silent guardians. They're there to prevent accidents and injuries. They play a critical role in maintaining a safe work environment by clearly pointing out hazards and outlining necessary precautions.