Heart Labels
Show your love with Avery's heart-shaped labels- great for weddings, parties, gifts, product promotions, and more! 
Quickly design print-ready labels with our user-friendly online free Design and Print software on a variety of convenient materials.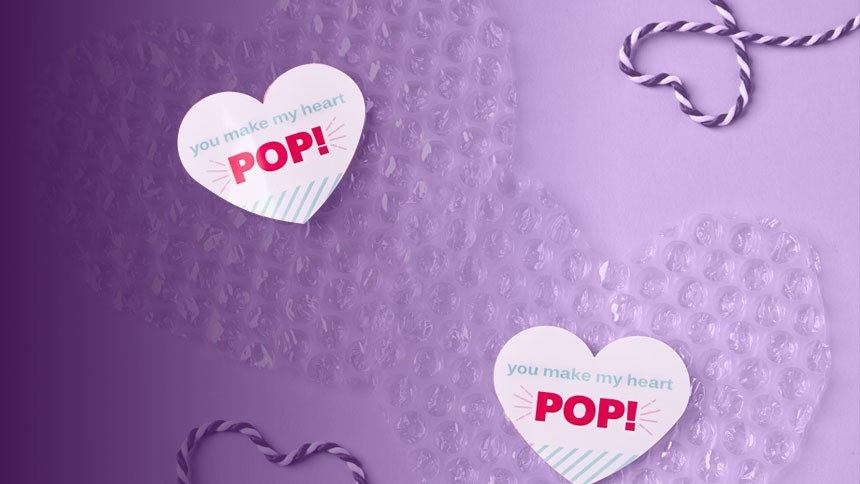 What Heart-Shaped Labels Does Avery Offer?
Are you looking for a unique way to personalise your events or products? Our heart stickers and custom heart labels are a brilliant way to add a touch of love to any occasion or project.
For instance, using custom heart stickers to seal your wedding invitations will emphasise this joyous occasion. 
Then for gifts, heart-shaped stickers infuse a whimsical flair, enhancing the wrapping and serving as an expression of your affection for the recipient.
If you're decorating for an event, like an anniversary party or Valentine's Day celebration, custom heart stickers are a natural choice to adorn table settings or party favours. 
For projects like scrapbooking or homemade card making, these labels perfectly express personal sentiments. 
Heart stickers are also excellent for home organisation. Use them to mark your favourite recipes in a cookbook, label personal belongings, or even as a colour-coded system for filing.
If you run a business and are looking for a clever way to make your products stand out during a promotion, our heart-shaped labels will appeal to customers and help them remember your brand. 
What materials, colours, finishes, and sizes are available for Avery's heart-shaped labels?
We understand our customers have different needs, so we offer a range of materials for our labels. 
You can choose our removable matt white paper heart-shaped labels for a clean, elegant look or our heavy-duty silver polyester heart-shaped labels if you need something more resilient.
Clear polyester heart-shaped labels offer a minimalist aesthetic and subtle charm on glassware containers, while linen textured heart-shaped labels are best suited to bring a rustic and tactile appeal to homemade crafts or artisanal products.
We also provide a premium matt white paper heart-shaped label option, compatible with inkjet and laser printers, for the best print quality. 
If you're looking for something with more sparkle, go for our metallic gold custom heart labels.
In total, we have 26 different material options for you to choose from!
Our heart-shaped labels come in a popular size of 54mm x 58mm, a perfect balance of visibility and subtlet
Questions About Ordering Heart-Shaped Labels?
Avery's heart-shaped labels are sure to make any item or event shine with an extra touch of love and care.
They're crafted to provide flexibility, superior quality, and sophistication.
So whether you're throwing a party, running a promotion, or organising your home, you're guaranteed to discover the ideal custom heart label solution with us!
And don't forget- you'll receive free shipping when you spend over $150!
For further inquiries, check out our FAQ page or contact our Australian support line at 1800 644 353 or 0800 228 379 if you're located in New Zealand. Our staff will gladly answer your questions.
At Avery, we aim to provide you with the best products and services. We are proud to locally manufacture our products out of our factory in Castle Hill, Sydney.
Manufacturing locally means you're not only supporting local jobs and the Australian economy but also getting the best quality products. 
So why wait? Discover the charm of our heart-shaped labels today