Avery Thermal Labels
Are you on the hunt for an efficient, automated solution to streamline your labelling process? Say hello to Avery's direct thermal labels. These versatile labels are the answer to your needs, from dispatch and shipping to warehousing, barcoding, and date labels.
Handy for businesses big and small, these multi-purpose labels can help your business automate its label needs without using expensive inks. What's more, these custom thermal labels come with a permanent adhesive, ensuring your label remains firmly in place, exactly where you need it.
Offered in many different sizes, these thermal shipping labels are compatible with a variety of machinery from leading manufacturers such as Zebra, Meto, Intermec, Datamax, Toll, and TEC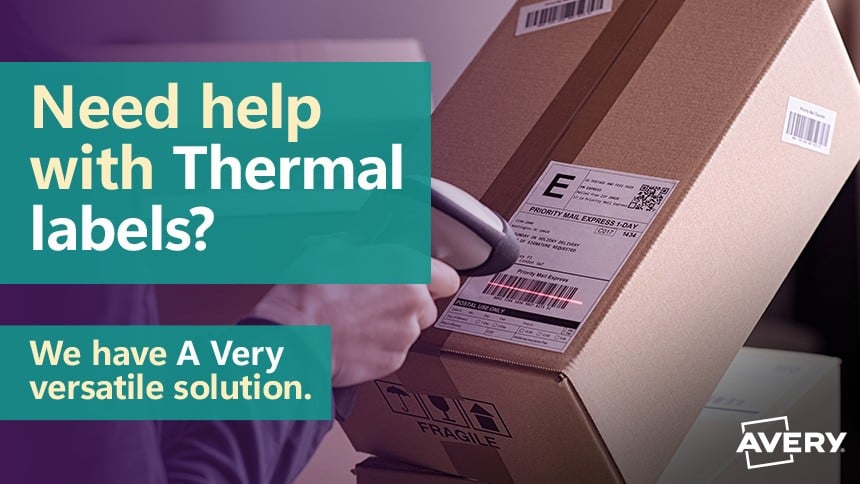 What Are Thermal Labels?
Thermal labels are a type of self-adhesive label that is designed to be used with direct thermal printers. These specialised machines use heat to create the image on the label without the need for inks or toners.
The result? Crisp text and images that remain permanent and durable over time.
Warehousing, logistics, healthcare, and retail businesses can all benefit from these labels if they produce a lot of repetitive labels.
What are some of the benefits of thermal labels?
Cost-effective.

With no ink or toner supplies needed, these labels will save you money in the long run.

Automated process.

Direct thermal printing technology enables an automatedprocess, making labelling efficient and quick.

Durable.

The material used in thermal labels is coated with a special chemical that reacts to heat, creating a permanent image or text on the label.

Versatile.

Perfect for barcodes, shipping labels, product labels, price tags, and inventory tracking.
Avery offers a comprehensive range of thermal shipping labels to meet the needs of businesses, large and small. With our direct thermal labels, you can
Print your own customisable barcodes and shipping labels.

Buy pre-printed, perforated thermal labels in a variety of sizes.

Create custom thermal labels that won't detract from the aesthetics of your products.
Explore our range of custom thermal labels and pre-printed thermal labels in rolls of 500 or 1000.
We offer free shipping for orders over $150, so don't wait- order today!
Do you have more questions?
Visit our FAQ page here. Alternatively, you can contact our Australian line on 1800 644 353 or 0800 228 379 if you live in New Zealand.
We look forward to helping you find the perfect thermal label!
Thermal Labels FAQs
What is thermal labeling?
Thermal labelling involves using heat-sensitive labels and a thermal printer to create labels. Unlike traditional ink-based printers, thermal printers use heat to activate the label's thermal-sensitive layer, creating a printed image. These labels are used in shipping, inventory tracking, and retail barcode applications.
What is the difference between thermal labels and regular labels?
The main difference lies in the printing method. Thermal labels rely on heat to produce the text or image, while regular labels require ink from a printer. Thermal labels offer faster printing speeds, lower ongoing costs, and typically a cleaner end result. However, they can be sensitive to environmental factors like heat and light.
Are thermal labels worth it?
If you frequently print labels in bulk, thermal labels might be a cost-effective choice. They offer quicker print speeds and don't require ink or toner, saving you on ongoing supply costs. However, they may not be ideal for all situations, especially if your labels will be exposed to harsh conditions.
How long do thermal stickers last?
The lifespan of a thermal sticker can vary depending on the environment it's exposed to. They can last anywhere from six months to a year if kept away from direct sunlight, heat, and moisture. Some high-quality thermal labels can last even longer.
Do thermal stickers fade?
Yes, thermal stickers can fade over time, especially when exposed to light, heat, or chemicals. That's why they're often used for short-term applications like shipping labels. If you need long-lasting labels, it's best to consider other options.
How do I know if my labels are thermal?
The easiest way is to perform a scratch test; if the label marks easily when scratched, it's probably thermal. Thermal labels will also blacken if exposed to heat.
What is the disadvantage of thermal label?
The main drawback of thermal labels is their sensitivity to environmental factors. Exposure to heat, light, and certain chemicals can cause the labels to fade or darken. They're generally unsuitable for long-term labelling needs or use in harsh conditions.
Do thermal labels need ink?
No, thermal labels don't require ink. They're designed to work with thermal printers that use heat to activate the thermal-sensitive layer on the label, generating the print. This makes them convenient and often more cost-effective in the long run.
Do thermal labels smudge?
Thermal labels are less likely to smudge than ink-based labels, as they don't rely on ink or toner. However, they can still be affected by scratches or harsh conditions that may cause the printed area to degrade. It's important to consider the environment where the label will be used to decide if thermal labels are the right choice for you.