Rectangle Labels & Stickers
Custom Printed For You
Classic rectangle stickers
Ideal for product labels, packaging, branding, gifts & more
Available in 24 sizes and 9 materials
Fast delivery on all WePrint orders
Professional premium printing
Made and printed in Australia
Rectangle Labels & Stickers
Custom Printed For You
Classic rectangle stickers
Ideal for product labels, packaging, branding, gifts & more
Available in 24 sizes and 9 materials
Fast delivery on all WePrint orders
Professional premium printing
Made and printed in Australia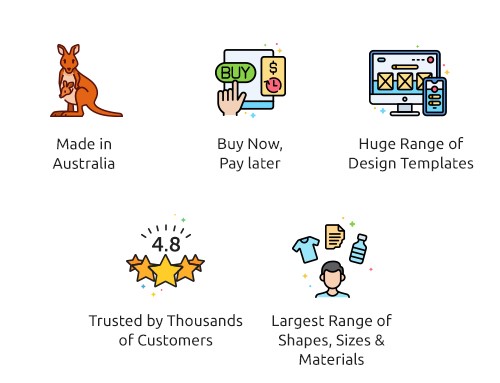 Rectangle - The go-to shape
You create, we print & deliver!
Stop settling for ordinary labels. Enter the world of Avery's rectangle labels and stickers- where quality meets versatility. Perfect for business branding, home organisation, or special events, these rectangle labels offer a crisp, professional look while maintaining easy application and reliable stick. 
Designed for both indoor and outdoor use, these are not your average labels. They're better. So why wait? Upgrade your labelling experience and make every rectangle count. Start shopping now and redefine what it means to label
Our FAQs section contains answers to all your Avery WePrint questions including selecting the right material, using our online design tool, artwork specifications, and the ordering / shipping process. You can also contact our friendly customer service team who will be happy to help.
Here's what our customers think of us!
You may also be interested in...

A winner every month!
Share an Instagram photo showcasing your Avery WePrint labels, and you could win a $100 voucher for your next WePrint purchase! Use the hashtags #AveryWePrintAU and #Creations (you're welcome to add other hashtags too). Each month we select one lucky winner! For complete T&C's click here.
Want To Know About Our Rectangle Labels and Stickers?
Transform the ordinary with Avery's unbeatable rectangle labels and stickers. Our huge range of sizes is designed for versatility and ensures the perfect fit for every product and application. 
We've got every surface covered, from glass to plastic and beyond.
Our cutting-edge digital printing technology and top-quality, materials mean unbeatable durability and appearance. Want to add a personal touch? 
Explore various customisation possibilities- upload your design, pick from our pre-made templates, or get creative with our intuitive online design tool. 
Don't just settle for basic labelling; make each rectangle label showcase quality and style.
Rectangle Labels and Stickers FAQs
How Can I Design My Own Rectangle-Shaped Stickers?
With our FREE and easy to use Design software!
Start by setting up a rectangle template and let your creativity run wild. Add text, colours, and graphics. Make sure to leave a border to avoid design elements getting cut off.
What Pixel Size Should Rectangular Stickers Be?
Pixel size matters when you're aiming for clarity. Around 1200x800 pixels at 300 DPI (dots per inch) is a safe bet for a standard-sized sticker. If you go lower, you risk ending up with a blurry mess.
What Size Should You Make a Custom Rectangle Car Decal?
For car decals, the size is really up to you and where you plan to stick it on your car. Standard sizes range from 25x15 cm to 50x30 cm. Consider how it'll look from a distance and how much space you have in your vehicle. A tape measure can be your best friend here.
What Is the Best Way To Design Customised Rectangle Sticker Labels?
It's always best to make your rectangle sticker designs simple. You want it to be eye-catching but not cluttered. Use high-res images and legible fonts. 
Stick to a colour scheme that matches your brand or message. And remember to preview your design multiple times. Get feedback from someone else to make sure it's hitting the mark.
Got More Questions? We've Got Answers
If you're looking for a label that will stick, stay put and make a statement, Avery's rectangle labels and stickers are the perfect solution. And with our virtually endless selection of sizes, materials and colours, finding the perfect label for your project has never been easier.
Do you have more questions?
Visit our FAQ page here. Alternatively, you can contact our Australian line on 1800 644 353 or 0800 228 379 if you live in New Zealand.
We look forward to helping you find the perfect rectangle label!