Metallic Labels
For Laser Printers
Our range of metallic labels is perfect for adding a premium look to any project. Backed with permanent adhesive, the labels stick to glass, plastic, and paper and are compatible with Laser printers. Ideal for product labels, packaging labels, and mailing out invitations for weddings, bridal showers, and other special events! These metallic sticker labels deliver great quality results every time and can be personalised for free using Avery Design & Print templates.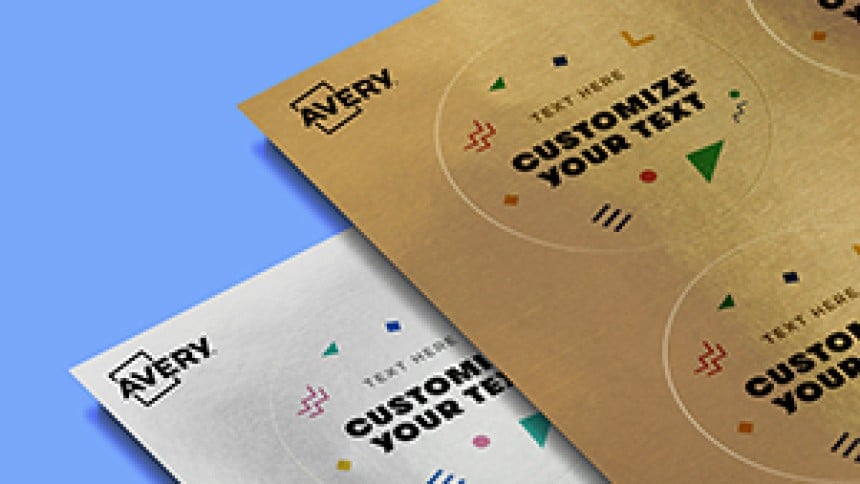 What Metallic Labels Does Avery Offer?
Dazzle your audience with the lustrous elegance of metallic labels, the ultimate fusion of versatility and premium quality. Avery metallic labels can add a sophisticated touch to your products or add a pop of interest to your letters with our metallic address labels.
They are handy when wanting to elevate the look of your brand or product, as the reflective properties of these labels can draw attention and impart a sense of luxury.
Available in silver and gold and a huge range of sizes and shapes, metallic sticker labels can fit virtually any application. 
For example, our arched labels gracefully fit wine bottles while heart-shaped labels are perfect for personalised gifts. And metallic lid seal labels create a professional finish on product packaging.
We also have classic shapes like oval, rectangle, round, and square labels to cover your basic labelling needs.
Offering 78 different size options, Avery metallic labels accommodate every unique requirement.
You could use the 196mm x 135mm rectangle labels for large product packaging or as a mailer label for bigger parcels.
The smaller 99.1mm x 34mm rectangle labels would be perfect for labelling file folders or small boxes.
For round labels, our 60mm labels could be used for sealing envelopes, while the 30mm ones might work well on jars of homemade jam.
The square 50mm x 50mm labels can serve as price tags for items in your boutique, while the 62mm x 41mm oval labels could be used for cosmetics or health supplements.
Regardless of your application, you can be sure of a beautiful, professional finish with Avery metallic labels.
Questions About Metallic Labels?
Elevate your branding with the unrivalled elegance of our metallic labels. They are thoughtfully designed to offer versatility, superior quality, and a dash of glamour to meet your diverse labelling needs.
With an array of sizes, materials, and formats, your perfect label solution is just a click away!
Unleash your creativity with our Free Avery Design and Print Templates. They're here to guide you in transforming our metallic labels into unique representations of your brand.
Why delay the sparkle? Dive in, explore our range, and let our metallic labels shine a spotlight on your brand or projects!
Do you have more questions? 
Contact our Australian line on 1800 644 353 or 0800 228 379 if you live in New Zealand, and one of our friendly staff will be happy to answer your questions. 
Or, visit our FAQ page to find answers to some of the most common label and printing questions we get asked.  
At Avery, we're excited to help you discover the perfect metallic sticker labels that will make your brand shine!