Avery Kids & Education Labels
Are your kids' belongings always getting lost or mixed up at school? If so, then you need kids' labels! These durable microwave and dishwasher-safe labels are perfect for labelling everything from clothes and shoes to lunchboxes and backpacks. Simply handwrite with a permanent marker and place it on!
Looking for fun and engaging activities for your child during the school holidays? You can use kids' labels to make magnets for the fridge or cards and tags for birthday presents. There's even a range of kids' name labels that will help stop lost property in its tracks.
Kids' clothing labels are a fun and practical way to make sure your children's clothes return home. Plus, they come in a range of colours and designs, so your little ones can always find something to match their style!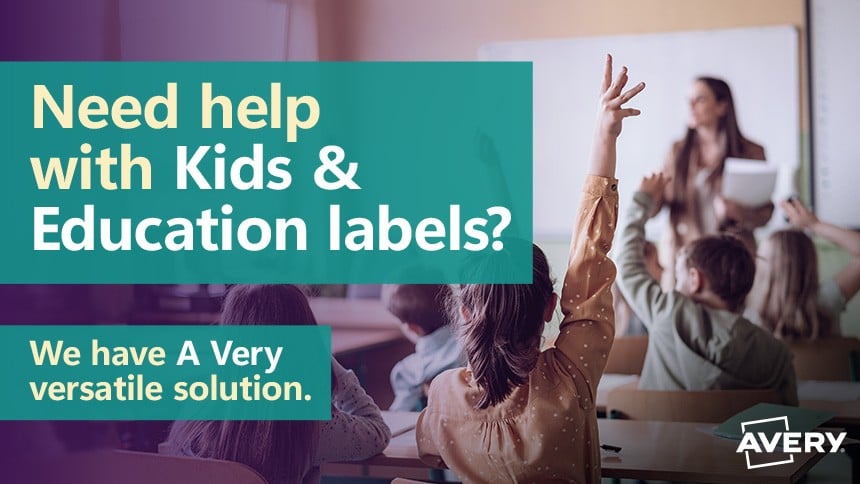 How To Use Kids Labels
Turn a simple kids' name label into an exciting activity. Let your child explore their creativity by drawing and colouring in a fun design or writing out the name in creative lettering. Then, with our no-iron clothing labels, you can apply the labels to clothes without having to worry about the hassle of ironing the labels on.
If your child is heading back to school, then make sure their belongings stay with them by using school labels for kids. We have various types, from classroom labels to lunchbox labels, to make sure everything is clearly marked and comes home with them every day.
Want to reward your kids for good behaviour or a job well done? Why not use our merit stickers to show your appreciation? Simply peel off and stick onto pencil cases, diaries or folders. And with a range of positive messages and colourful designs, your child is sure to be encouraged and motivated.
Having a party or organising a special event? Our kids' party labels can help you jazz up your party decorations. Put your unique spin on the labels by writing your child's name or creating a fun design. Whatever you choose, you can be sure your party will stand out from the crowd!
How do I label my kids stuff for school?
Labelling your kids' belongings for school is crucial for keeping track of everything. You can go the DIY route with a permanent marker, writing your child's name on tags or directly onto the items. However, customised stick-on labels are more durable and look nicer. These labels come in different sizes, suitable for everything from pencil cases to backpacks. Just make sure the name is clearly visible so there's no mix-up at school.
How do you label a stainless steel lunch box?
Stainless steel lunch boxes may look sleek but are a bit finicky to label. Regular stickers and markers can easily come off. Your best bet is to opt for adhesive labels that stick to challenging surfaces like stainless steel. Placing the label in a less-handled area will prolong its life, making sure your child's lunch box always makes it home.
How do I label my kids Tupperware?
Tupperware has its labelling challenges as the containers go through multiple washes. Our Heavy Duty labels are water proof so are more durable than standard paper labels
What should I label in my classroom?
Labelling in a classroom goes beyond mere organisation; it's about creating an environment where kids can focus on learning. Typical items to label include desks and various learning stations like a reading corner or a science area. Clear labels help students find materials easily, making the room function more smoothly and enabling more effective use of educational time.
How do you make cute labels for classroom?
Creating cute labels for the classroom doesn't have to be a big deal. With Avery's free Design & Print online software, it's easy to make your own custom print labels. All you need is a computer, printer and an internet connection.
How do you use labels in the classroom?
Using labels effectively in the classroom is about more than sticking them on items. You can incorporate them into teaching strategies. For example, labelling bins with both pictures and words can help younger children make connections between objects and their names. Having a specific place for each item also fosters a sense of responsibility in students because they know exactly where to put things back.
Why are labels important in a classroom?
Labels serve a dual function in classrooms: they're both organisational tools and subtle teaching aids. Clearly labelled shelves and boxes save time, helping students and teachers find what they need without fuss. But they're also educational, helping kids build vocabulary, develop categorisation skills, and learn to navigate their environment independently.
How do you label lunch containers?
When it comes to lunch containers, stick-on labels are often a quick and effective solution. Opt for waterproof, dishwasher-safe labels for maximum durability.
What do you use to label food containers?
For food containers, look into specialty kitchen labels that can withstand moisture and temperature changes in the fridge and freezer.