Labels For use in Laser Printers
Are you looking for a seamless, efficient printing experience? You're in the right place. At Avery, our extensive range of laser printer labels and stickers offers something for every application- indoor or outdoor. 
Crafted to withstand the heat your laser printer generates, our labels not only stick firmly but also dry in an instant. Perfect for high-volume print jobs, you'll achieve sharp, clear prints every time. 
Just a heads-up: always double-check your printer type to make sure you select compatible labels. Dive in and find the perfect fit for your printing needs today.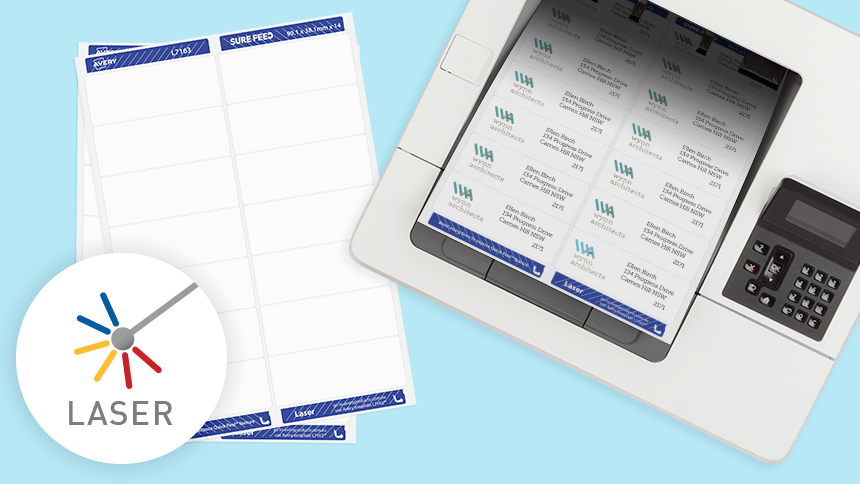 Learn More About Laser Printer-Ready Labels
Laser printing technology is fast, accurate and low-maintenance. Naturally, it's a popular choice among businesses of all sizes. Not only do they print at lightning speeds, but toner cartridges also last longer than inkjet ones. This means you save time and money in the long run. 
Avery laser printer labels and stickers are built to handle high-speed printing without compromising quality.
Ever wonder what sets Avery's laser labels apart? It's all in the material. Our white gloss paper labels add a polished look to your packages or marketing materials. If you're aiming for some sophistication, our linen-textured paper provides that extra touch of elegance. 
Need something rugged? Our heavy-duty white polyester labels are built to withstand  the weather and wear, making them a go-to choice for outdoor equipment or industrial settings.
But let's not forget about the rustic charm of kraft brown paper labels. These are perfect for crafting, homemade gifts, or even small businesses aiming for an earthy, organic vibe. 
No matter the material you choose, you can expect quick-drying, sharp prints that can handle the heat of your laser printer, giving you professional-looking labels every time
Laser Printer Labels and Stickers FAQs
Can You Print Labels on a Laser Printer?
Absolutely, laser printers are more than capable of handling label printing. The most important thing you'll want to do is use label paper designed for laser printers. 
The paper heats up in a laser printer, so using the right paper is crucial to prevent jamming or smudging. Load up your laser printer label paper, adjust your settings, and you're good to go.
Are Laser Printers Better for Labels?
Well, "better" can be a bit subjective. Laser printers are fantastic for quickly printing large volumes and are generally more cost-effective for big jobs. They're also great for text-heavy labels or crisp, clear graphics. 
However, they might not be the best for super vibrant or complex colour designs, where inkjet printers usually shine. So, it really depends on what your specific needs are.
What Happens if You Use Inkjet Labels in a Laser Printer?
Not a great idea! Inkjet label paper is designed to absorb ink, while laser printers use heat to fuse the toner to the paper. Using inkjet labels in a laser printer could cause jams or even damage your printer. At the very least, the print quality will likely be poor. So, stick to laser printer labels for the best results.
Can You Use a Laser Printer for Avery Labels?
Sure can. Avery provides a huge range of labels for inkjet and laser printers. Just select the pack that says it's compatible with laser printers. 
Avery's website provides templates and printing guidelines to help you get the best results, making the whole process stress-free.
Do You Need Special Paper for a Laser Printer?
It's best to use paper specifically made for laser printers, especially when it comes to labels. The heat from the laser printer can cause other types of paper to jam or even melt, which you don't want. 
Always check the packaging or product description to ensure the paper is compatible with laser printer labels.
Got More Questions? We've Got Answers
We understand that choosing the correct labels for your laser printer can sometimes be overwhelming, so we're here to help. 
Our Customer Service team is always ready to answer any questions about our products or printing process. 
Alternatively, please check out our FAQ page for more detailed information. 
And with our free Avery Design & Print Templates, label printing has never been easier. Customise your design, load the labels into your laser printer, and voila! Professional-looking labels in minutes.
Shop now and experience the convenience of Avery laser printer labels and stickers today. Let us help you make a lasting impression with every print