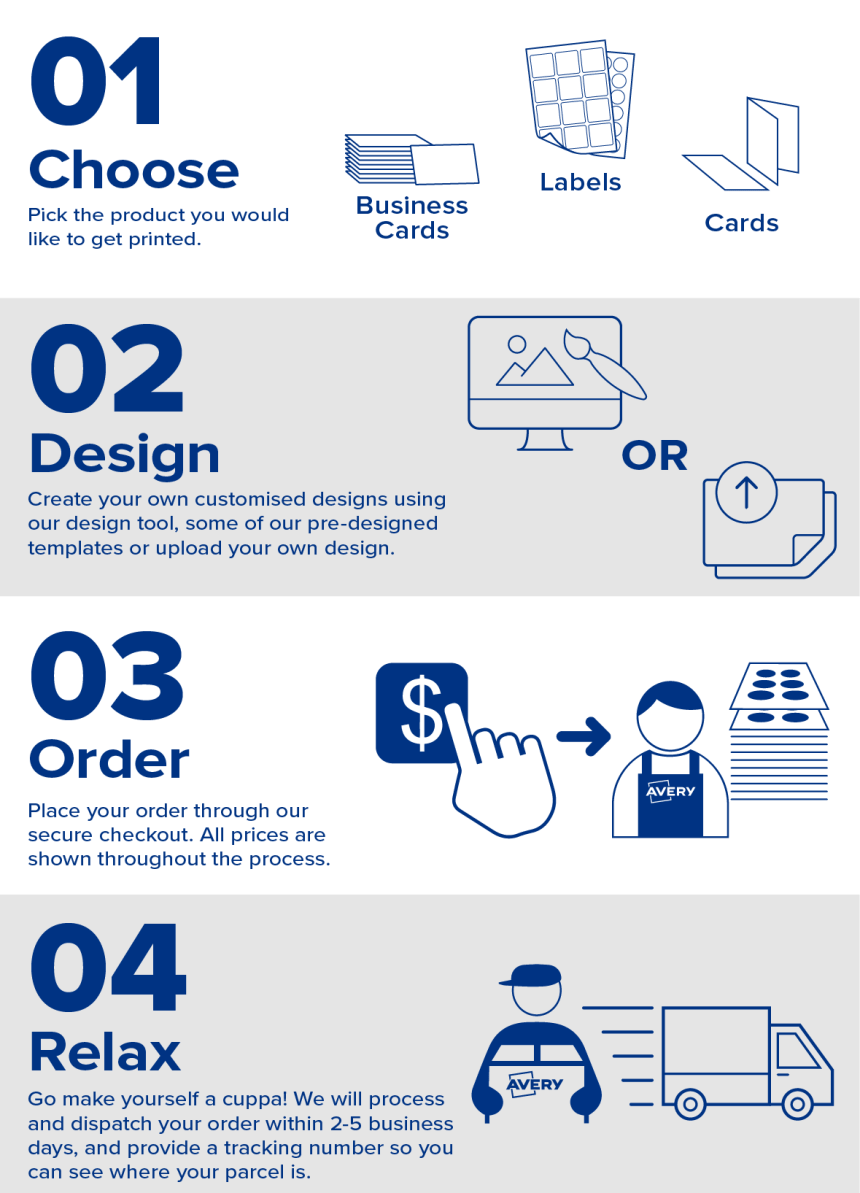 Custom labels for every purpose
Avery Now Prints For You!
With Avery WePrint, high quality, affordable custom label printing is a mouse click away. Simply use our online editor to either create your label design from scratch or upload your own existing design. We have hundreds of design templates available if you need inspiration. Once you've submitted your finished masterpiece, we'll print it and have it shipped out within 2 business days. That's how easy it is!
Shapes, Materials, & Sizes Galore
Our range of shapes, materials, and sizes is extensive and constantly growing. Being the market leaders in labels and stickers, we've got labels for all situations. Our shapes and size range have been carefully selected to cover most common usage scenarios. Our range of materials open up options for adding visual flair, and ensure we have a label for you no matter what environmental conditions or harsh elements your products are exposed to.
Custom labels for every purpose
Avery WePrint customers come from all walks of life and a huge variety of industries. Whether you're a stay at home parent trying to get your side hussle off the ground, or have been selling your product  for years and would like to add an extra layer of shine to your branding – our labels are tried and tested, and will get the job done for you.
Quality products backed by Quality service
Avery pioneered labelling technology over 80 years ago so you can be sure we know a thing or two about quality. Every Avery WePrint order is custom printed at our premises located in suburban Sydney using state of the art digital printing technology. The quality of our product is matched by the service we provide. Got any questions? Simply email or call one of our friendly customer service staff for a chat. Not satisfied with a print job? We are happy to offer a free reprint or your money back. Rest assured, your satisfaction is guaranteed!
 

Our FAQs section contains answers to all your Avery WePrint questions including selecting the right material, using our online design tool, artwork specifications, and the ordering / shipping process. You can also contact our friendly customer service team who will be happy to help.
Here's what our customers think of us!