Avery For All Your Events
Every event needs seamless organisation. When things run smoothly, it's less stressful for everyone involved and makes for a more streamlined function. No matter the nature of your event, it can feel like there's never enough time to tailor everything to your attendees and give your guests the personalised experience you planned. Avery is your go-to for all things event planning with our extensive range of innovative, printable solutions, purpose-designed to support your event without busting your budget. Our free, user-friendly design templates put precious time back in your pocket by offering you access to the highest quality, customisable products.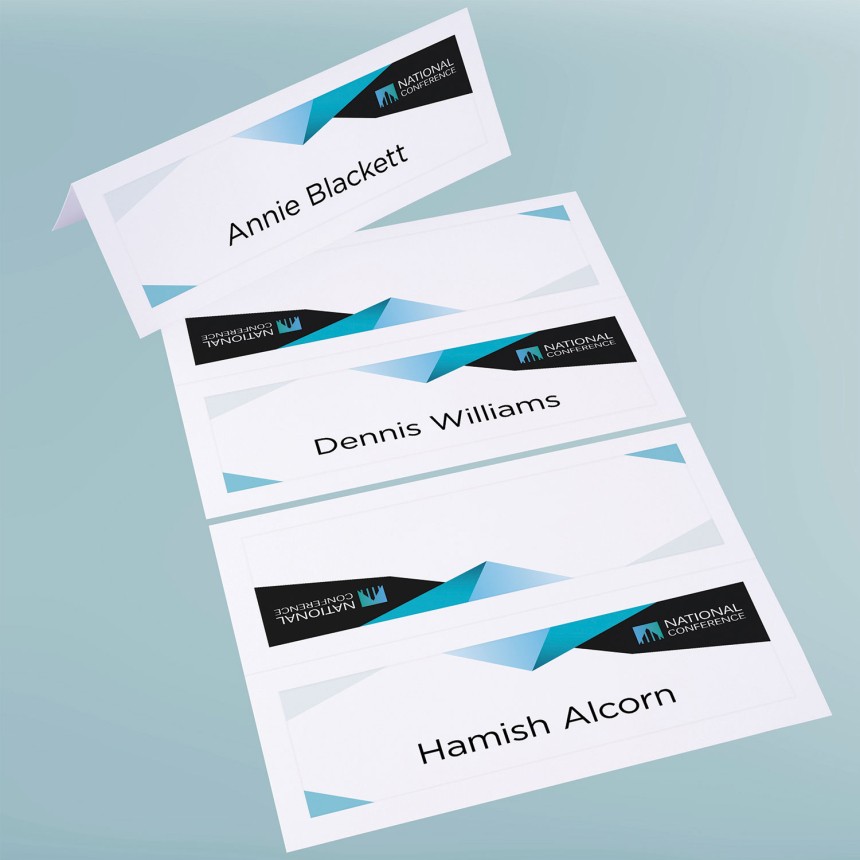 Anyone who's ever worked behind-the-scenes of an event, you'll know where all the hard work happens. By the time the actual event rolls around, the nitty-gritty details have already been taken care or. Think of Avery as your behind-the-scenes event assistant, with the right products to help keep your planning under control. Being prepared is half the work. A great event sets the tone straight from the get-go, so put forward a professional edge for an impact that inspires. Our pre-designed templates can help you carry your identity across all collateral from personalised name badge labels, delegate cards, and invitations – all without costing you time.

Top Tip: Ditch the clothes-ruining pins and put a stop to the nowhere-to-clip your name badge problem. Instead, opt for Print & Divide Name Badge Labels, that allow you to tear off, sort and distribute your name badges easily.
Avery has an inventory of products that will help streamline your event organisation. Use just one item, or our whole range to put your professional foot forward. Here are just some of our products that can help bring your event to life:
Cling Sheets
Put your professional foot forward with Avery Write On Cling Sheets that cling to the wall and glass with static. You can use them in the preparations stage as you plot and plan. Then, during the event, let your delegates demonstrate and doodle their details minus the wall or window damage. Removable and repositionable, these 686 x 864 mm sheets come in a pack of 35. Simply write with a whiteboard marker and for a clean slate, wipe with either a wet or dry cloth.
Fabric Name Badges
At any event, there are multiple opportunities to promote your brand. Customising name badges can turn any meet and greet into brilliant brand exposure. As your guests gather and mingle, they'll remember both names and your brand. For seminars, meetings, trade fairs, conferences and training sessions, Avery Fabric Name Badge Labels are fabulous at fixing to most textiles and are easily removed without a trace. Made from acetate silk, these flexible badges move with your clothing while staying put without curling or falling to the floor.
With Avery Conferencing Solutions, you can tie all the details together to create a coordinated look across all your event collateral:
Printable Tabbies
Keep a Printable Tabbie on your documents with easy colour coordination; easy-mark, easy-find means all your event papers can have their place. Simply customise your index tabs with our free Avery Design & Print Online, and then apply your single or double-sided tabs in situ. If you need to, you can seamlessly remove and reposition your tab with our easy-use adhesive to stay on top of the positioning of your key papers.
Handy Pouches
Get functional go-anywhere storage space for all your documents and incidentals like pens, notepads and USB. These hard-wearing, lightweight Handy Pouches are tear-proof and come in A3, A4, A5 and smaller sizes. The metal zipper makes sure what's inside, stays inside; safe and secure. Endlessly useful and practical, these pouches house all your miscellaneous on-hand belongings and complete any event collateral.
Flexi-View Binder
By bringing your branding to your Flexi-View Binder, you can add a more personal feel to your event. On top of a standout look, a customised front cover can help your guests recognise the contents with quick reference. Organise your documents and add up to 100 sheets as needed. Made from tough, non-stick plastic means your sleeves won't stick together, giving you a long-lasting professional edge. Simply customise your binder with our free Avery Design & Print Online, and then print out on laser or inkjet for a smart, storage solution.
Top tip: Create a just-in-case kit and keep some blank labels, a pen and a spare whiteboard marker on you at all times.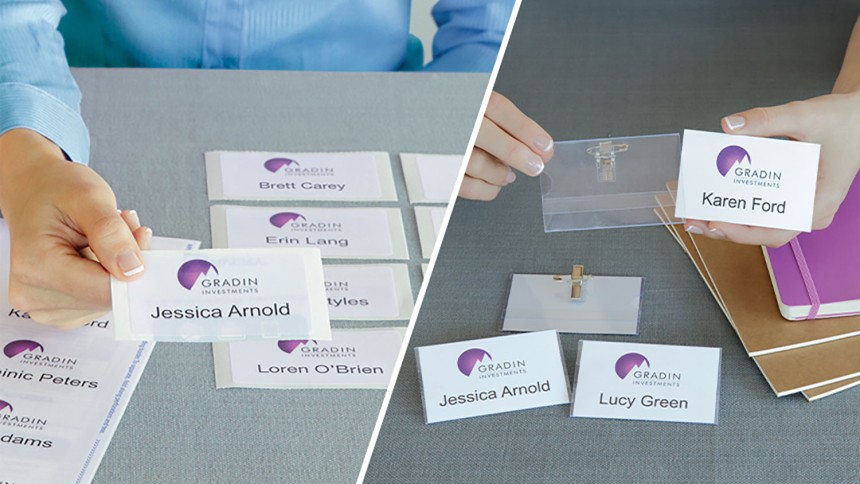 Fabric vs Card Holder Name Tags
While both of these products have their place, it's best to look at the capabilities of each option to properly pick the right one for your event. Both the card and the fabric name badges can be customised using our free and easy-to-use template software: Avery Design and Print. The difference between the two is all in the wearability. The card badges come with sheets of white perforated card which go into an insert that needs to be attached with either a clip or pin. The fabric badges are made from a silk-like material, which means they'll stick and stay-on clothing with an improved adhesive to move comfortably with you. They can both be reused, however, the fabric badges will simply pull off and on without leaving any residue.
Add some personality to all your event detailing and feature your logo and company colours across everything for a customised, cohesive look. Pay attention to your attendees and personalise what your print. Avery has got your covered for all your event needs with their extensive range, including solutions for name badges, delegate cards, branding giveaways, agenda cards, invitations, menu cards and bag toppers.