12 DIY Valentines for all of your loved ones
Spoil your loved ones this V'day with some cute and extra punny DIY gifts!
These punny valentines are an extra sweet way to brighten your special someone's day and show them you are thinking about them. These simple printables with a low budget are great to show a little love to all the special people in your life. Share them with your teachers, co-workers, classmates, friends and more!
We have rounded up some of our fave Valentine's Day ideas that we are sure you'll love making and sharing!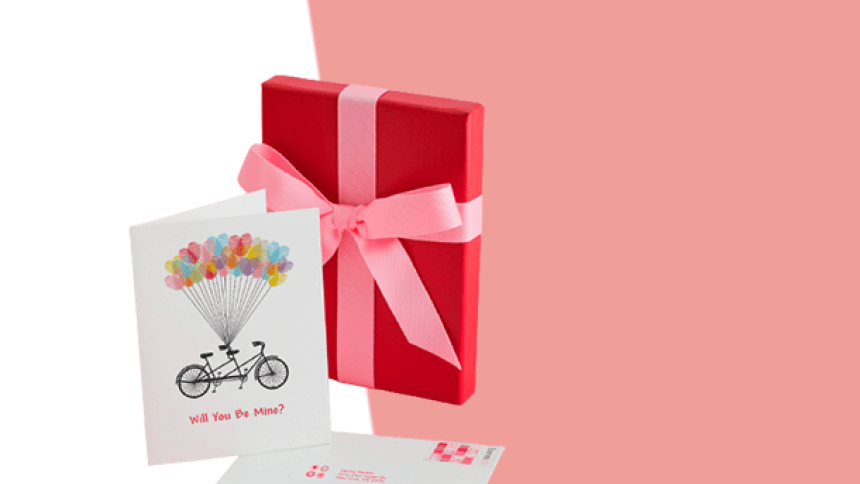 For your teachers, students or classmates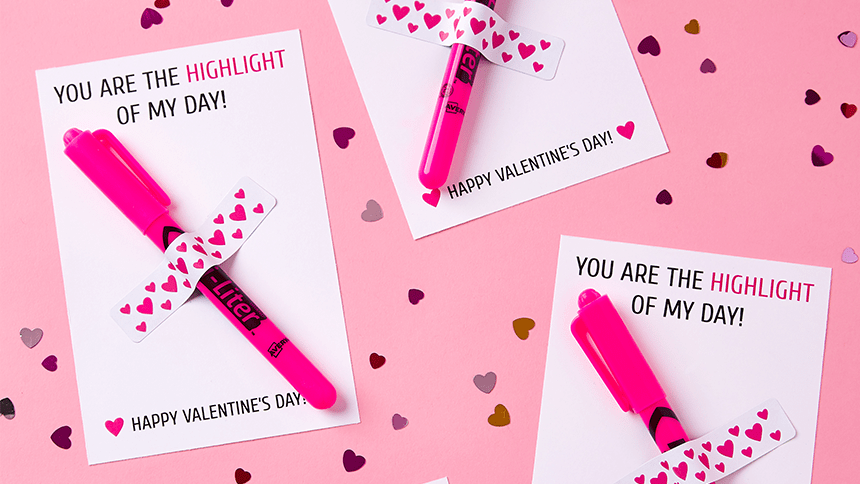 "You are the highlight of my day"
You can really never go wrong with some cute stationary! Create this super easy (and useful!) DIY by using some cute and inexpensive washi tape (we got this one from Amazon!) to stick a fun highlighter (we personally love the pastel ones!) to a postcard!
For this one we used our A6 (105 x 148mm) cards, and custom-printed them using our Avery WePrint Service. Fun and easy to pull off!
DIY TIP: To make sure the highlighter doesn't fall off the card, simply use some double-sided tape on the under side of the highlighter.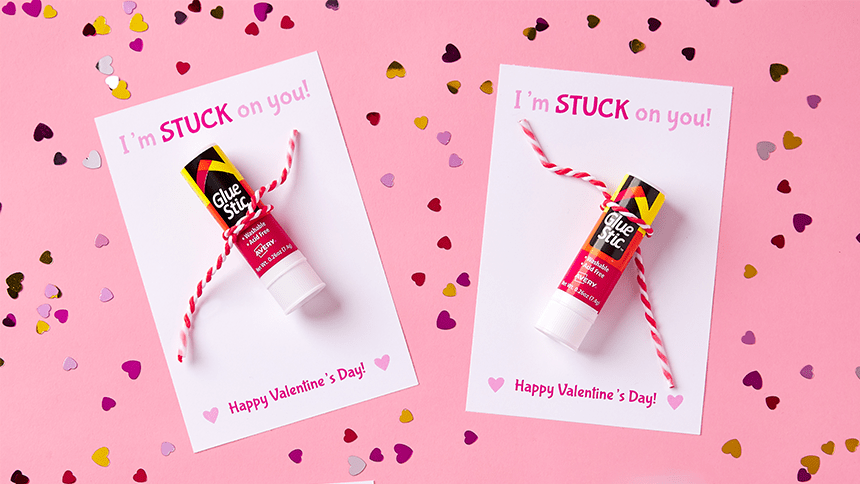 "I'm stuck on you" glue stick valentine
Building off the idea of gifting some much – needed stationary, try this variation of the previous DIY with a glue stick (or maybe some cute tape for your crafty valentine!) This is also a great way for teachers to distribute supplies in a fun and creative way.
We used our A6 (105 x 148mm) cards, and custom-printed them using our Avery WePrint Service for this DIY - but you could print them at home, or even hand write them for an extra personal touch!
DIY TIP: We used a hole puncher and made 2 small holes behind the glue stick to securely tie it into place - we used string but a fun red or pink ribbon would work perfect as well!
For your sweet-toothed friend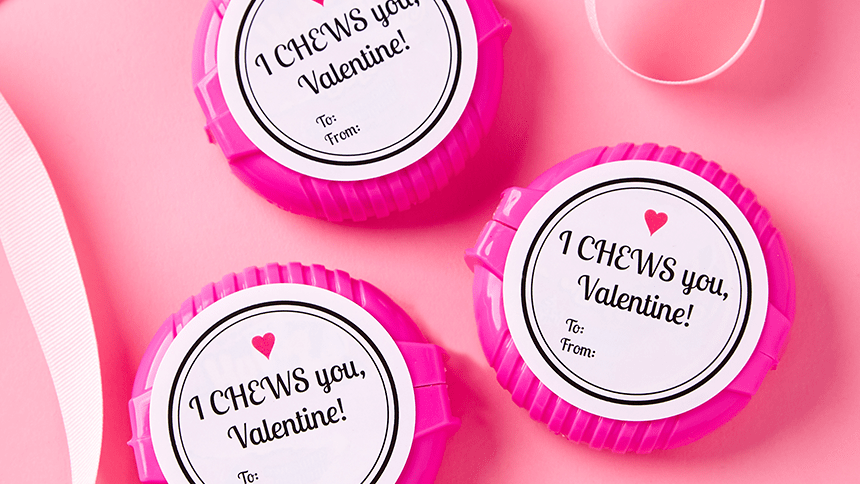 "I Chews You" bubble tape DIY valentine
Blow your loved ones away with this Gum-believable and fun gift! Easy on any budget, grab an 'un-named brand' roll of bubble gum (bonus if you get some different colours to make it even more fun!
Simply take off the existing label (see our blog here for some great tips on removing labels) and add your new personalised label - we used 60mm round labels. The best part is you can personalise these as much or as little as you want, this budget friendly option is great for treating your friend group. 
DIY TIP:  We found it easier to use an elastic to tie the tag to the machine, and then tie the ribbon around that - this just means you can tie the ribbon a bit nicer, and the tag stays on more securely!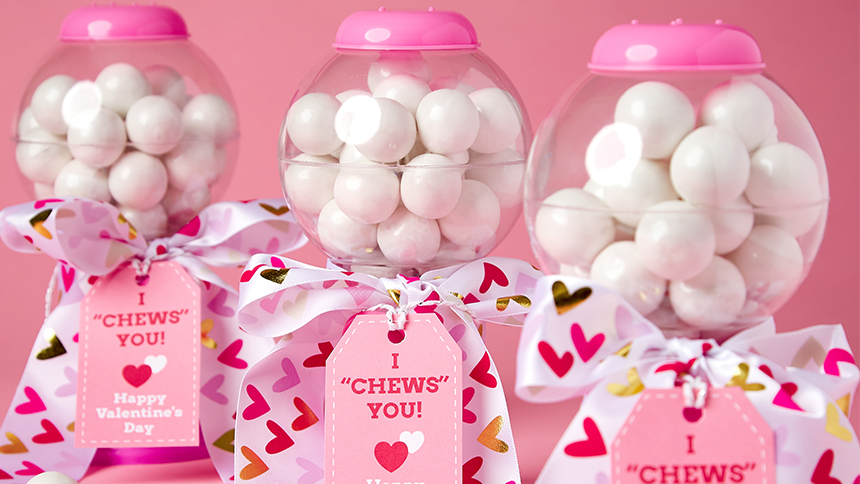 "I Chews You" mini gumball machine
To level up the gum gift for your gum-loving friend, try these super cute and decorative gumball machines! You can fill them with a selection of gumballs, or even get creative and stock them up with some of their favourite lollies! These machines are relatively easy to source, we found ours on Amazon, but there are also plenty of similar items on eBay or other sites - you don't even need a working one!
We used our 89 x 50 mm printable gift tag for this fun DIY, and finished them off with a super fun bow for an extra bit of pizzaz!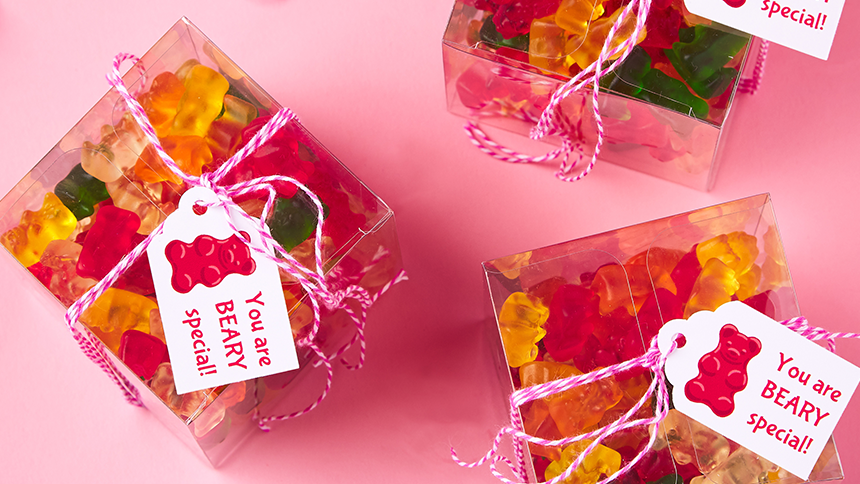 "You're beary special" valentines
Who doesn't love gummy bears? For this beary delicious  DIY, we used our favourite gummy bears and these great clear boxes to create a punny treat that any sugar-lover will adore.
All we did was assemble the gift boxes (we picked these up from our local dollar store but most craft stores or dollar stores have similar items), fill them with our gummy bears (most of them at least - I only ate a couple, promise) seal them with a sticker and wrap the ribbon with the tag around it! 
We used our 32 x 50 mm scalloped printable tags for this project.
DIY TIP: Think about the heat for this project! Make sure you keep your gummy bears at room temperature to avoid gummy bear soup (unless that's something you're into).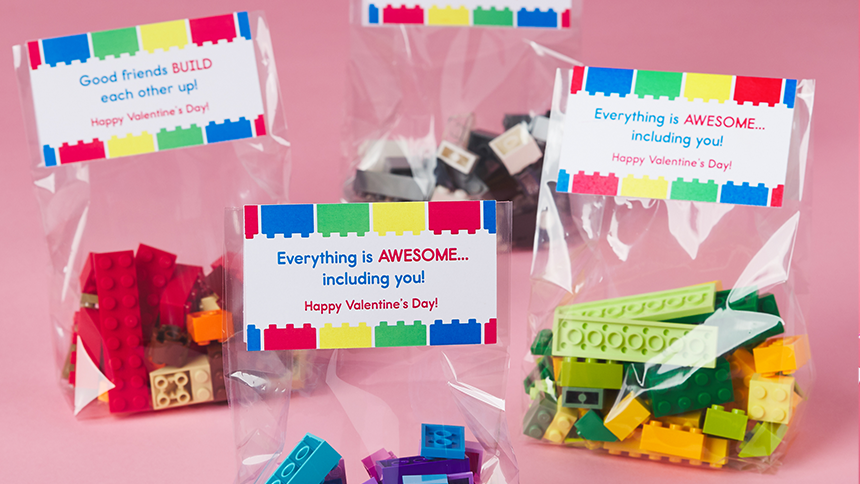 Awesome DIY Lego® valentine
Turn the toybox into a punny gift that any kid or kid at heart will love! These colourful array of bricks will help them build something fun and beautiful and are a super thoughtful gift for that friend that loves fidgeting and is a big kid at heart!
Use our 85 x 50 mm Printable Folded Placecards to pull off this fun project by simply printing your design and stapling to the top of a plastic bag with your Lego gift!
DIY TIP:  try and give them different pieces of lego that will be able to build something! That makes it even more fun and thoughtful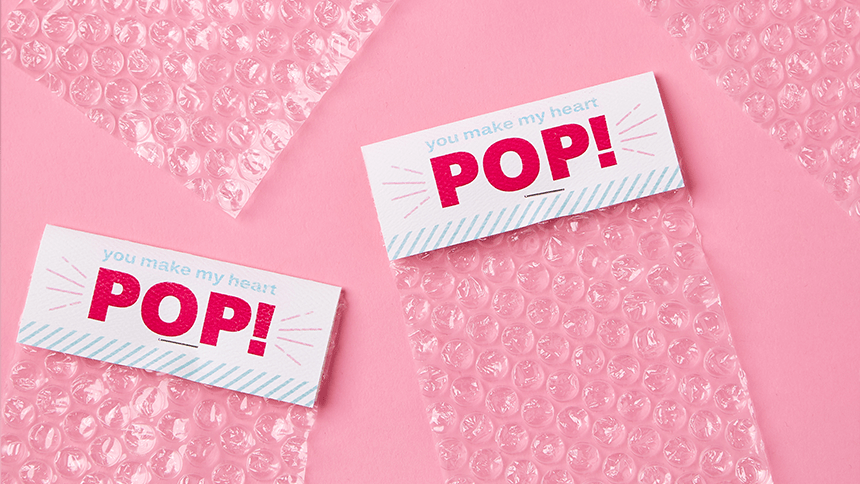 DIY punny bubble wrap valentines
Speaking of that friend that loves fidgeting… who doesn't love a little bubble wrap pop for stress relief? Gift your loved ones the relief of relaxation by surprising them with this satisfying gift.
Use our 210 x 74.3 mm Printable Delegate Cards – simply print your card with whatever you like, staple it to the end of a piece of bubble wrap and you're done!
An alternative way of pulling off this fun and effective DIY is to use our A6 (105 x 148mm) cards and put them inside a bubble wrap bag (that's even more pop for your buck!)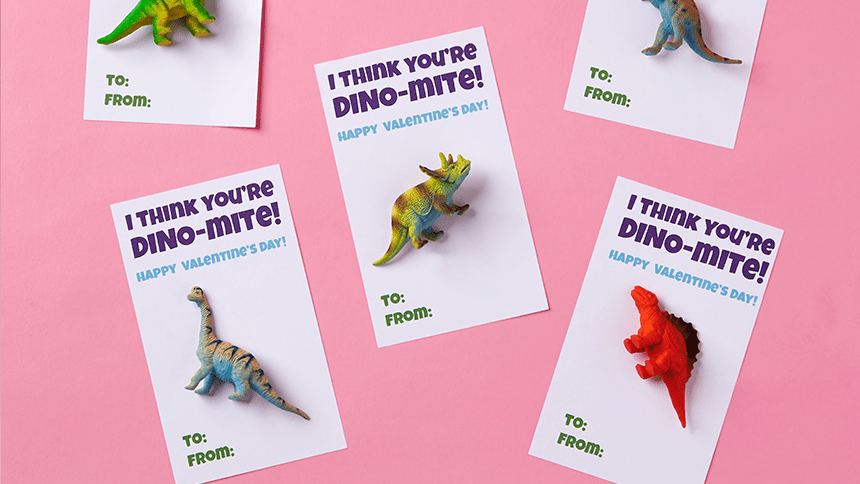 "I think you're dino-mite" valentines
Dinosaurs are always a Dino-Mite hit with kids and kids at heart, so why not surprise them with this fun and simple DIY! Whether you say RAWR XD or are simply en-RAPTOR-ed by your Valentine, this one is sure to be a hit with all dino-lovers (and would also make great party favours for a dino-themed party)! 
There are 3 different ways to pull off this fun DIY,
Put the card and dino in a small poly bag (similar to the ones used in our Lego DIY)
Use washi tape (and a little bit of double-sided tape to secure it)
Super glue the toy to the card (this is what we have used for the one pictured above). This is the most secure option but isn't great if you want to play with the dino!
For your favourite Galentines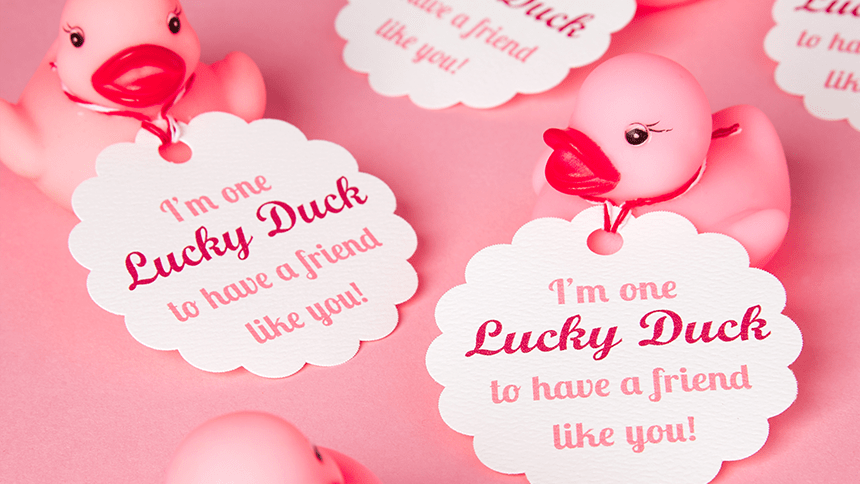 A Heartfelt Personalised Card to Quack them up
Make sure you have all of your ducks in a row with these adorable rubber ducky valentines. Pairing these lucky duck friendship valentines with a heartfelt card on one of our printable scallop tags. 
These are perfect for any flock of friends! We picked up this valentines themed ducks on Amazon, but you could find them at your local dollar or craft store! Go crazy with colours, messages and ribbon to make these truly personalised for your loved ones.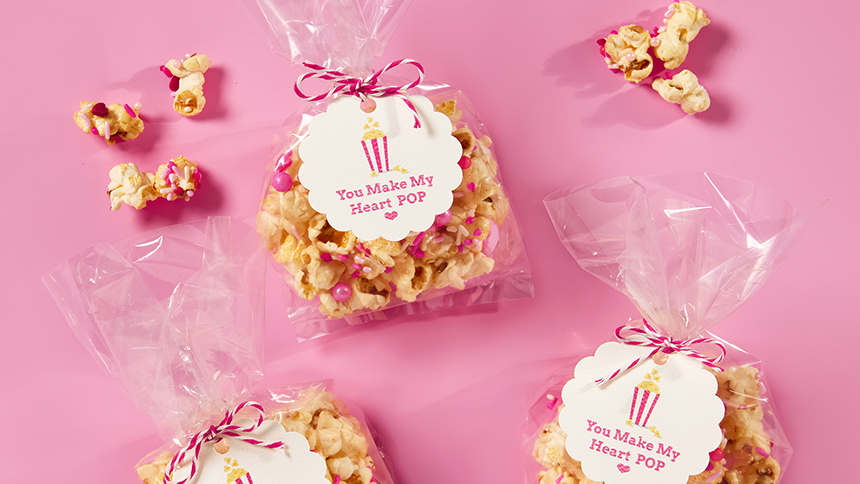 Don't be afraid to be a little Corny
Pop to it with this multi-functional gift (yummy and practical!) Share this sweet (and salty) gift with your snack-centric friend to score some serious brownie points. See below our recipe for this super yummy caramel popcorn!
Ingredients
Popcorn (Unsalted)
125g butter, softened
3/4 cup raw sugar (white sugar is also fine)
2 tbsp honey
(optional) Pink sprinkles
How to
​​​​​​​Combine butter, sugar and honey in a saucepan over medium heat. Stir for 5 minutes or until the sugar has completely dissolved. Bring to boil, uncovered and leave for 5-10 minutes without stirring until golden brown.
Remove from heat and pour over pre-prepared popcorn. stir until your popcorn is completely covered. Serve once cooled into poly bags and tie off with a cute ribbon and personalised tag.
(optional) while still warm, cover in fun pink sprinkles for some extra colour and fun! 
For your Main Man (or SO)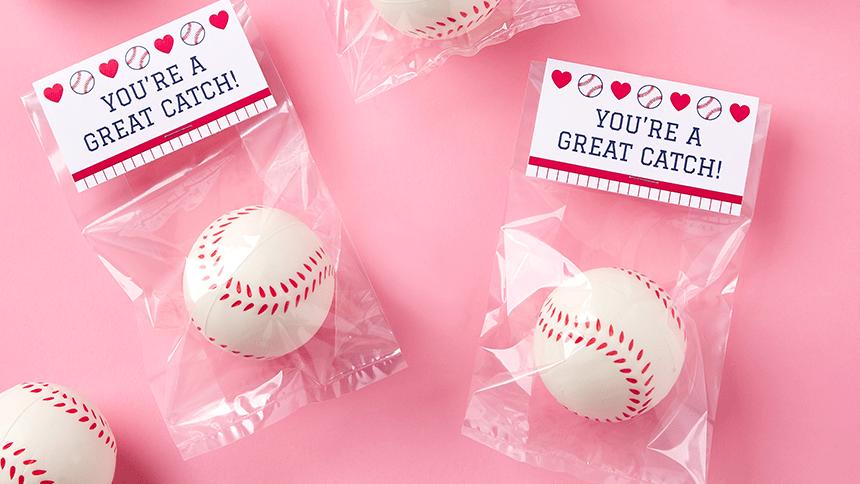 "You're a great catch" for sports fans
We love stress balls in this house and these sports-themed stress balls are a witty and creative way to show the sports fans in your life your love. This gift is perfect for sports coaches or team mates, and the balls are available in a range of different sports! We picked ours up at our local dollar store, but Amazon also has plenty of alternatives. 
Use our 85 x 50 mm Printable Folded Placecards to pull off this fun project by simply printing your design and stapling to the top of a plastic bag with your stress ball gift!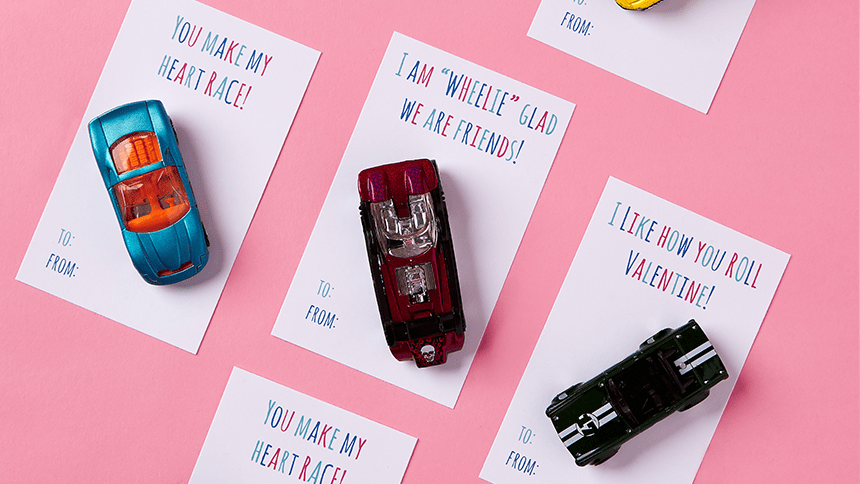 Fast and (furiously) Thoughtful Valentines Day Win
Spoil the motor-head in your life a brand new car for Valentines Day! (seriously) Simply get started with a blank template for our A6 (105 x 148mm) cards and personalise to your hearts content with our fun mix of fonts, shapes and colours. Try some of our favourite car puns to add some humour to your gift;
You make my heart race
I am "wheelie" glade we are friends
I like how you roll, Valentine
You auto be my valentine
I'm racing by to say Happy Valentine's Day
Get revved up for fun, Valentine