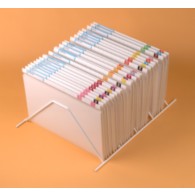 Quickvue™ Filing: the Quick Way to Organisation!

Are you fed up of never being able to find files? Maybe they're lost on your desk. Maybe you've got so much stored in your filing cabinet that you're searching for the right file. Maybe you're using suspension filing and find the files tear, or fall off the metal rail in your cabinet drawer. No worries! Implementing a Quickvue™ filing system is the ticket to avoiding common filing problems!
Instructions:
Before starting your filing project, you need to work out what how and where you want to file. A few things to consider include:
You can implement a Quickvue filing system in your filing cabinet drawers, or on your desk. Figure out the right place for you before you get started, considering the space you have available on and around your desk.
Take a look at your files. Do you need them all? Are there some you should archive or dispose of?
Consider the information that needs to be on your file title labels. Work through all your files and figure out the detail that needs to be on each one.
Would you like to use colour coding? If so, what type? You might apply the first three letters of your subject, or the year the file was opened. It's totally up to you, but we suggest you consider what comes into your mind when you look for a file. Is it the year? Is it the subject? Is it someone's name?
Instructions:
We've made it easy for you to convert to a Quickvue solution, with bundles that include all the things you need! These bundles contain the rack, Quickvue files, file title labels and colour coding labels. If you have a four drawer cabinet just waiting to be organised, use our
four drawer package
. Our
single drawer package
is perfect for converting one drawer (just purchase additional packages for additional drawers), or for setting up a desk system.
What's included?
The rack
- the rack is physically placed in the cabinet drawer, or on your desk, to hold the files
The files
- these are seriously sturdy files! They're made of an extra heavy weight board, and are terrific at holding lots of documents.
File title labels
- you can type neat labels for your files using Avery software. As the name suggests, these show the title of your files! Design and print them as you wish!
Colour coding labels
- you'll have colour coded alpha labels, numeric labels and year labels. Colour can help you easily identify where a file should be.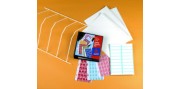 Instructions:
It's time to implement your filing, using file title labels that indicate the contents of your files. We recommend you use
Avery DesignPro® 5 Light
to prepare your file title labels. Download and install this free software. You'll use the L7172 template to create your labels. A key tip: ensure your text box is positioned in the bottom half of the label. For more information, explore our detailed
guide to creating file title labels
.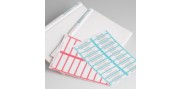 Instructions:
1. Insert the rack into your cabinet drawer, or position it ready on your desk
2. Apply the file title labels to your files, and insert the documents into the files
3. If you're using a colour coding system, it's time to apply your colour coding labels!
4. Insert your files into the rack in your drawer, or on your desk
You've finished! You've thought about your filing, figured out what's best for your requirements, and created an organised system for yourself. You should now have a terrific-looking, efficient desk or cabinet, with files just begging to be worked on!