Bag a Chocolate Gift
No matter what your wedding location, size, theme or colour scheme, we have put together a great list of clever, easy-to-create and cost effective bonbonnieres that will leave a lasting impression on all your guests, the perfect finish for a memorable wedding day.
If you really want to give your wedding a party theme, why not create these cute, yet sophisticated, lolly bags? You can fill them with your favourite lollies or, because you're creating them yourself, you can indulge in your favourite exotic and expensive chocolate.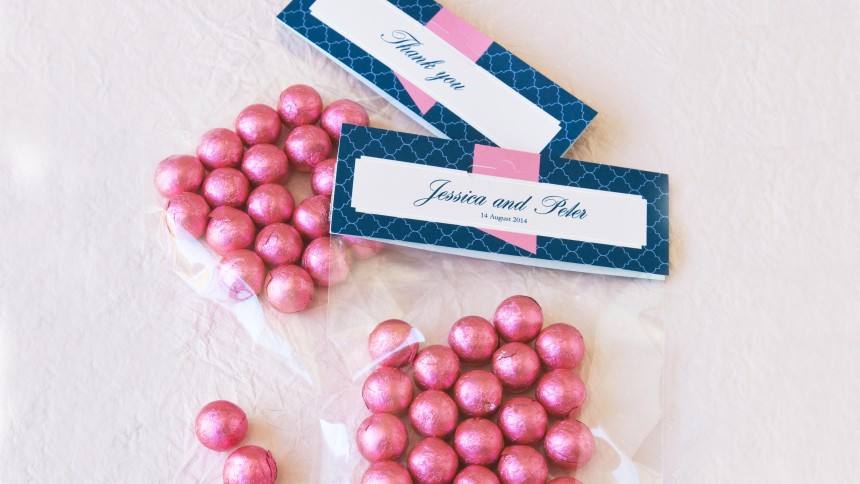 Items you will need
Lollies or chocolates of your choice (we used delicious milk chocolate balls covered in pink foil wrapping)
Instructions
1.   Open Design & Print Online and click Start Now
2.   Type the software code on your Avery packet in the Enter your product number here field. Click Go.
3.   The Select Your Product screen will appear if there are multiple products using the software code you entered e.g. L7259
4.   Choose the product you have from the list and click on Next
5.   You'll see the Select Your Design screen. You may see pre-designed templates and/or portrait and landscape templates.
6.   The templates you see will depend on the software code you entered. Select the template you like and click on Next to open the Customise screen.
7.   On the right hand side of your screen, you'll see the Sheet Navigator, showing the full sheet of labels. If you'd like to create a sheet of all the same labels, click on Edit All. If you'd like to create a sheet of different designs click on Edit One. If you have chosen to create different labels, use the Sheet Navigator to select each individual label.
8.   If you've selected a pre-designed template, you'll see sample text written on the template. To change the sample text, highlight it and type in your personalised message. We have chosen a blank template and added our own design. We kept it simple with couple's name followed by the wedding date on one side of the printable area and a Thank you on the other side.
9.   To add text, click on Text (it's on the menu on the left hand side of the screen), and then Add Text Box. To add an image, click on Images (it's on the menu on the left hand side of the screen), and then either From Avery Gallery (to choose one of the pieces of free clip art) or From My Computer (to use your own image).
10.   When you have finished designing your project, click on Preview & Print (in the top right hand corner). You'll see a preview of your project.
11.   If you're happy with your project, click on Print. Design & Print Online will create an Adobe® Acrobat® PDF version of your project. Print from Adobe Reader as normal. Ensure Page Scaling is set to None and your page settings are set to A4. You can save your document in the Adobe PDF format for future printing. TIP: test print your design on a piece of paper before printing on your bag toppers!
12.   Attach the printed bag topper to the clear bag as instructed in your packet.
13.   Place your lollies or chocolates inside the bag and seal as directed.

IDEA: If you have a beach themed wedding you could fill the bags with colourful shells or shell-shaped soaps.
Product used in this idea and other great products for your wedding