Lateral Filing Made Easy!

Are you dreading the next time you revamp or update your filing? Here's the smart way to do it! Filing is faster and easier with Avery® FilePro® filing software! Create file labels quickly with the Avery FilePro software, then apply in a single strip. Check out the four steps to create a successful filing system! Impressing your peers with an organised and professional looking office is just plain sailing!
Instructions:
Avery FilePro file labelling software
has a range of filing label templates (including alphabetical and numeric). You'll need to select the design that fits your existing filing system, or reflects the system you want to implement. Just pick the template that will work for you to create an efficient filing system.
Instructions:
Once you have selected a label design, everything will gradually fall into place! Simply enter the data that is relevant for the label design that you have chosen – possibly department names, year, file description or barcode number. You could edit the colour coding to your liking as per the range of colour options available.
And there you have it – a set of colour coordinated, systematic filing labels that help organise your files!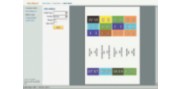 Instructions:
It's time to print, using
Avery Lateral Filing Labels
! You can print loads of labels in sequence in one go or as little as just one sheet (with four labels)! The labels work best on colour laser printers and are guaranteed for Jam Free laser printing. Simply feed the filing label sheet as per the fitting of your printer, hit the 'print' button to print!
Instructions:
Applying the labels is just easy peasy! All is left to do is to peel off the single strip label from the label sheet and label onto the designated tab position of a lateral file. You'll save oodles of time, applying a single strip label instead of individual tab labels!
For detailed step instructions for using Avery FilePro, simply refer to the
Quick Start Guide
included in the pack or contact our Lateral Filing Specialist on 1800 644 353.